Sea Treasure, oil on panel, 24 x 24"
"Most people overlook the beauty of common objects such as egg cartons, sandwiches and ice cream. For me there is a certain satisfaction that comes from transforming ordinary objects into elegant subjects by painting them with rich color, fascinating texture and tempting sensuality," says Susan N. Jarvis. "I like to paint fudge sauce dripping down the side of a melting ice cream cone or portray a smear of gooey peanut butter beneath a sparkle of cherry jam."
Over The Moon, oil on panel, 36 x 36"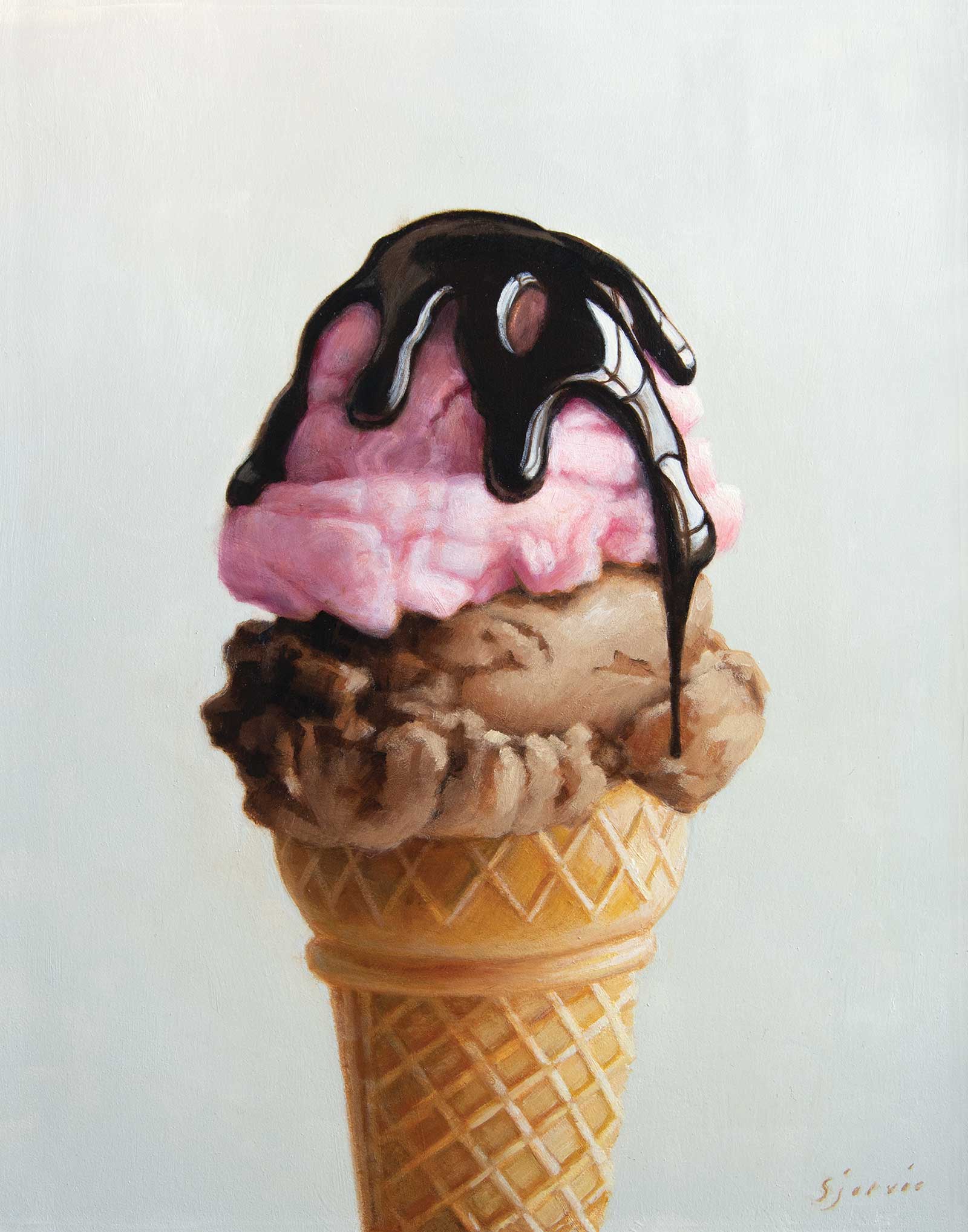 Duet, oil on panel, 14 x 11"
Each still life object she paints must speak to her or have a story connected to it. The titles of Jarvis' works are important, and each one usually has some sort of narrative behind it. "Over The Moon describes the rating I give to a classic American PB&J while Duet depicts a time-honored collaboration between fudge sauce and ice cream. Sea Treasure displays earth jewels that are more precious than silver or gold," she says.
Although Jarvis paints in a traditional realistic style, she gives her paintings a contemporary feel by simplifying the background and painting it with a light value, often using a square format and making the angle of view either straight down or directly at eye level. She says, "Many of my images are oversized and this lends an air of joyful absurdity to the work. I enjoy creating quiet, restful work that has a playful twist." —
Want to See More?
153 W. 2100 South | South Salt Lake, UT 84115
(801) 455-3551 | susan@susannjarvis.com
www.susannjarvis.com
Represented by William A. Karges Fine Art
Dolores and Sixth Avenue | Carmel, CA 93921
(800) 833-9185 | www.kargesfineart.com
Facebook: /susannjarvis
Instagram: @susannjarvis_artist
Pinterest: /susannjarvisart
Powered by Froala Editor