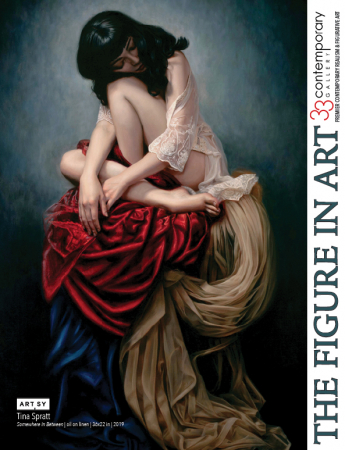 THE FIGURE IN ART
11/30/2019 - 12/31/2020
---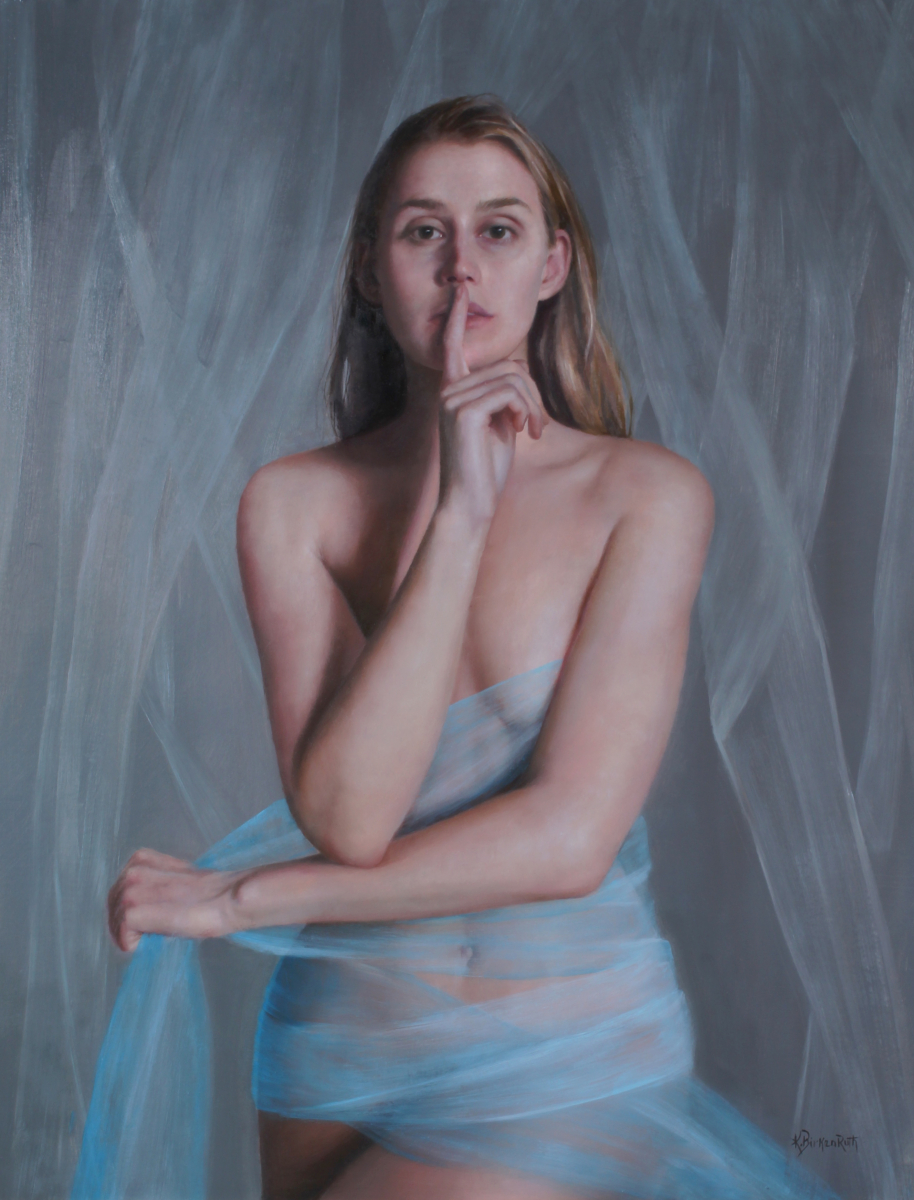 *Wrapped In Secrets, 2019
Kelly Birkenruth
Oil on panel
28 x 22 inches (L x W)
Kelly Birkenruth's captivating paintings are in the style of contemporary realism while staying firmly grounded in the tradition of the Old Masters. She is able to pull the viewer into her paintings by interweaving emotion with a humanistic quality through her supreme handling of light. Through her portraits and still lifes she is able to evoke sensitivity and empathy, which in turn allows her to create images which transcend mere representation to capture the true essence of her subject. Kelly's arresting compositions, draftsmanship, use of color and observation of detail allow her to create paintings with a timeless quality.
---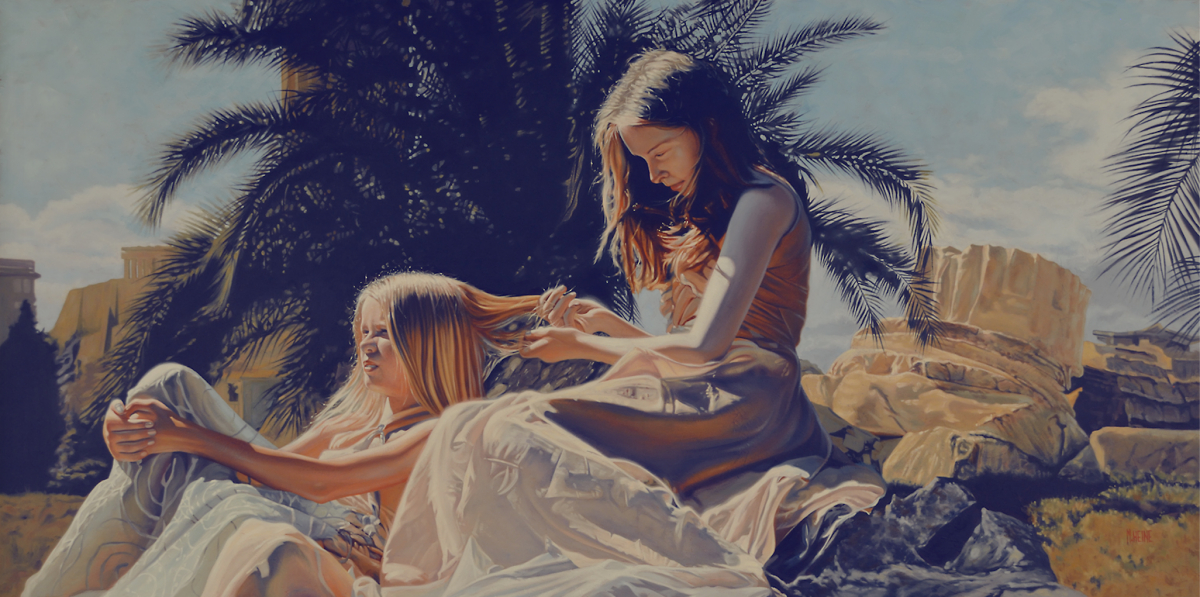 Be Patient, 2019
Mark Heine
Oil on Canvas
24 x 48 inches (L x W)
In the span of his 35 year career, artist and author Mark Heine has come to realize he's a storyteller. Writing has long been an integral part of his creative process. His writing drives his painting and his painting inspires his writing. Bringing one of his stories to life … to larger than life, is the focus of his current project entitled Sirens. Each of the paintings in his Sirens series, is the visualization of a key moment in his coming Sirens book, a work of fiction in the genre of magical realism. This environmental tale, which examines humankind's ambiguous and destructive relationship with the world's oceans, is a contemporary re-interpretation of the femme fatal made famous in Homer's Odyssey.
---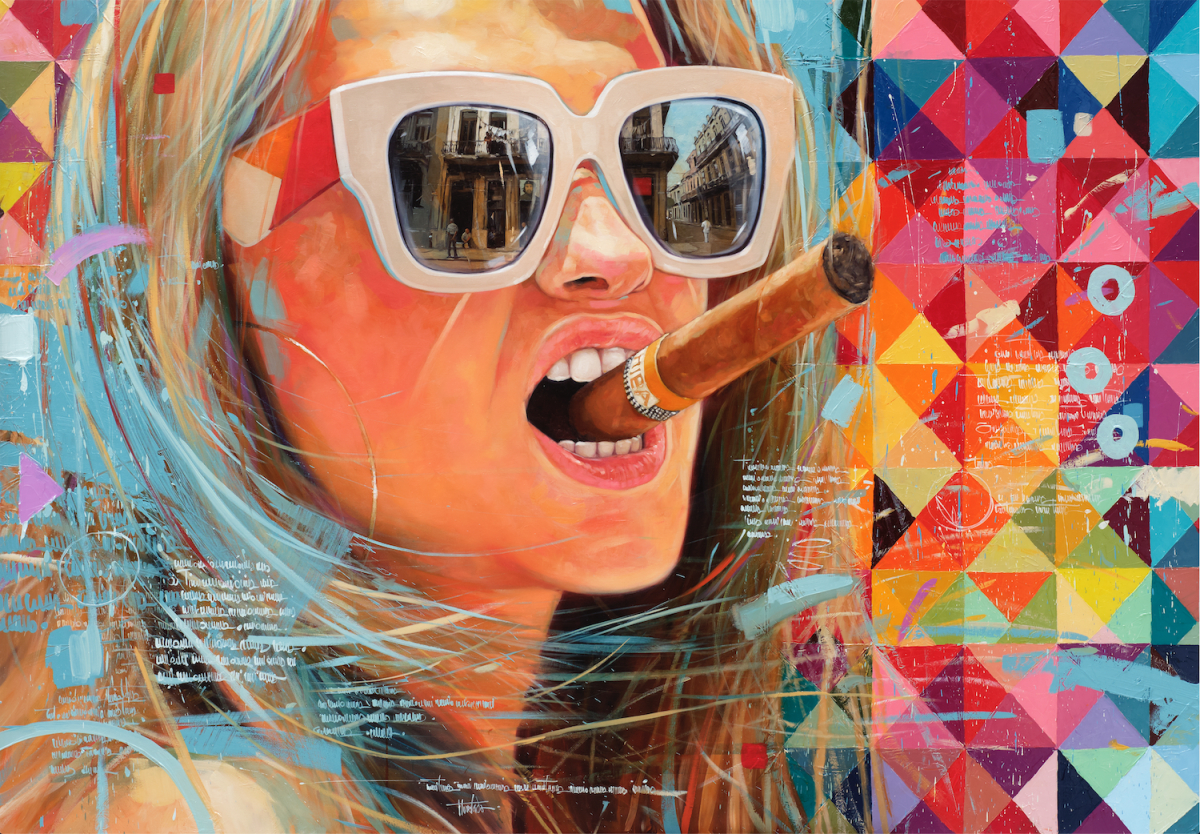 Beyond My Eyes, 2019
Yunior Hurtado Torres
Oil on Canvas
55 x 78 inches (L x W)
---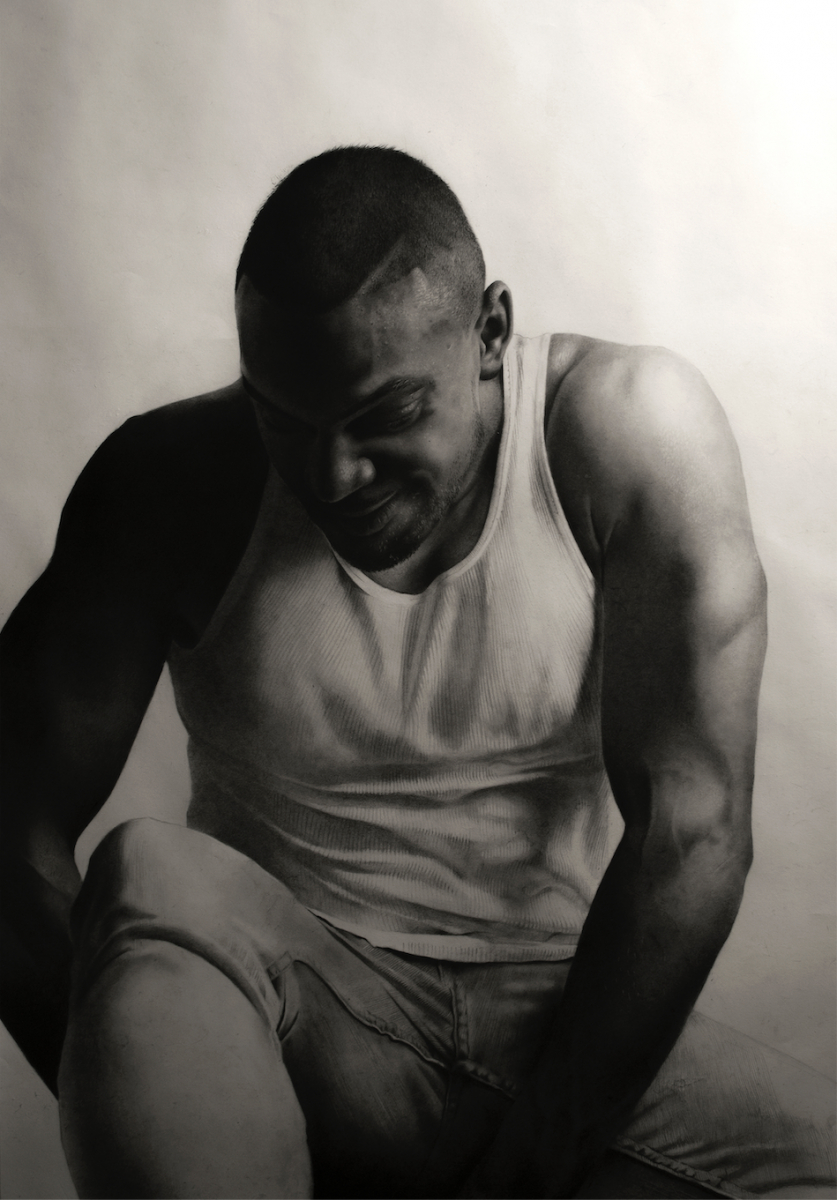 Carter, 2018
Shawn Michael Warren
Graphite, charcoal on paper
30 x 24 inches (L x W)
Shawn Michael Warren's narrative work brings attention and awareness to events and individuals - past and present - that have affected and shaped cultures and civilizations throughout the world. Warren incorporates his training in classical oil painting to depict various subjects that are, at times, uncomfortable and bring light to the experiences of those who are underrepresented.
---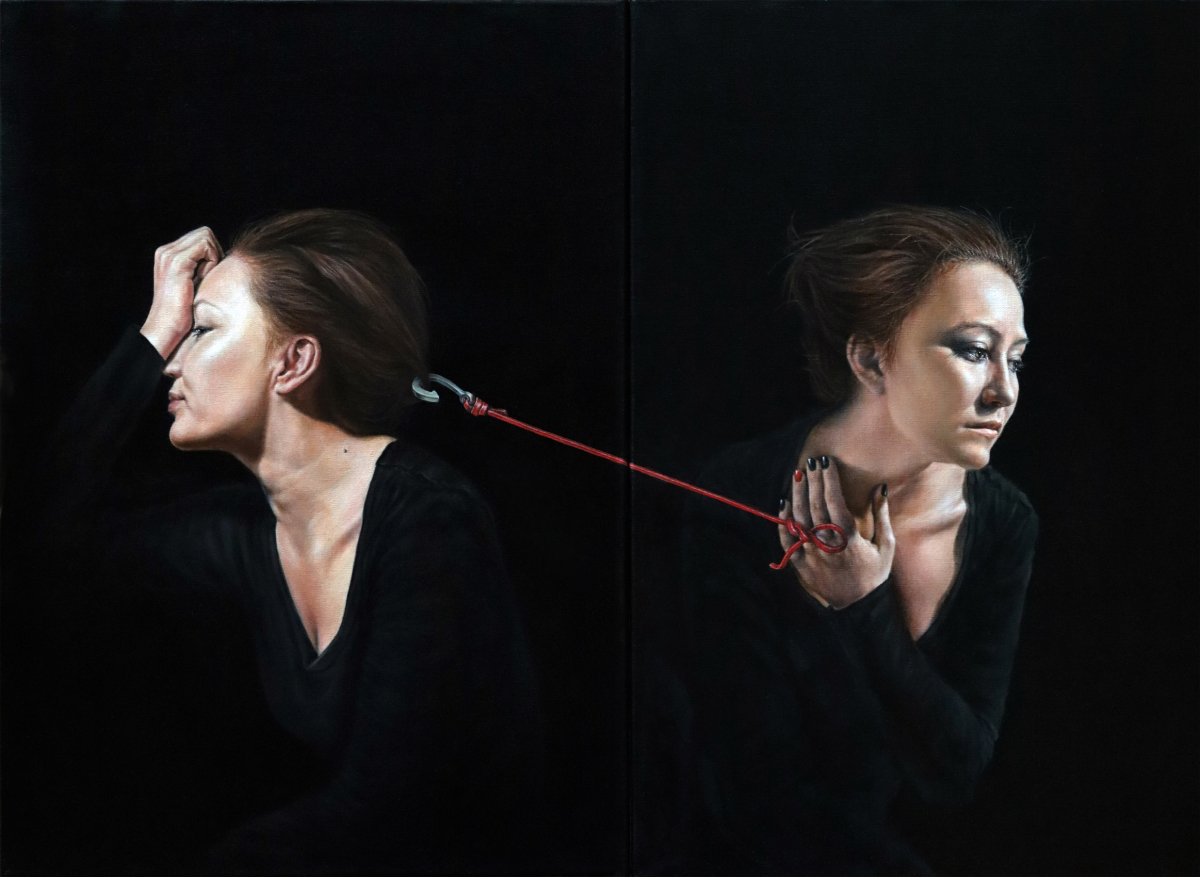 Gemini Sublimation, 2019
Arina Gordienko
Oil on Linen
28 x 40 inches (L x W)
Originally from Russia, Arina Gordienko lives in the UK and is best known for her figurative realistic paintings. Her style may be described as hyperrealism with elements of imaginative realism. Her works are often filled with a surreal atmosphere where the subjects are placed in the middle of nowhere without any signs of a particular place or time. She depicts human emotions and feelings in an unusual environment, often on the border of the capacity of perception. Arina is dedicated to the renaissance of realistic traditions and her works are painted in a subtle manner without perceptible sharp lines or edges. She uses the Renaissance Masters' technique called 'sfumato' where the colours and tones layer gradually one above another without any sharp or harsh outlines which brings to the images a rather softened or 'smoked-down' outcome.
---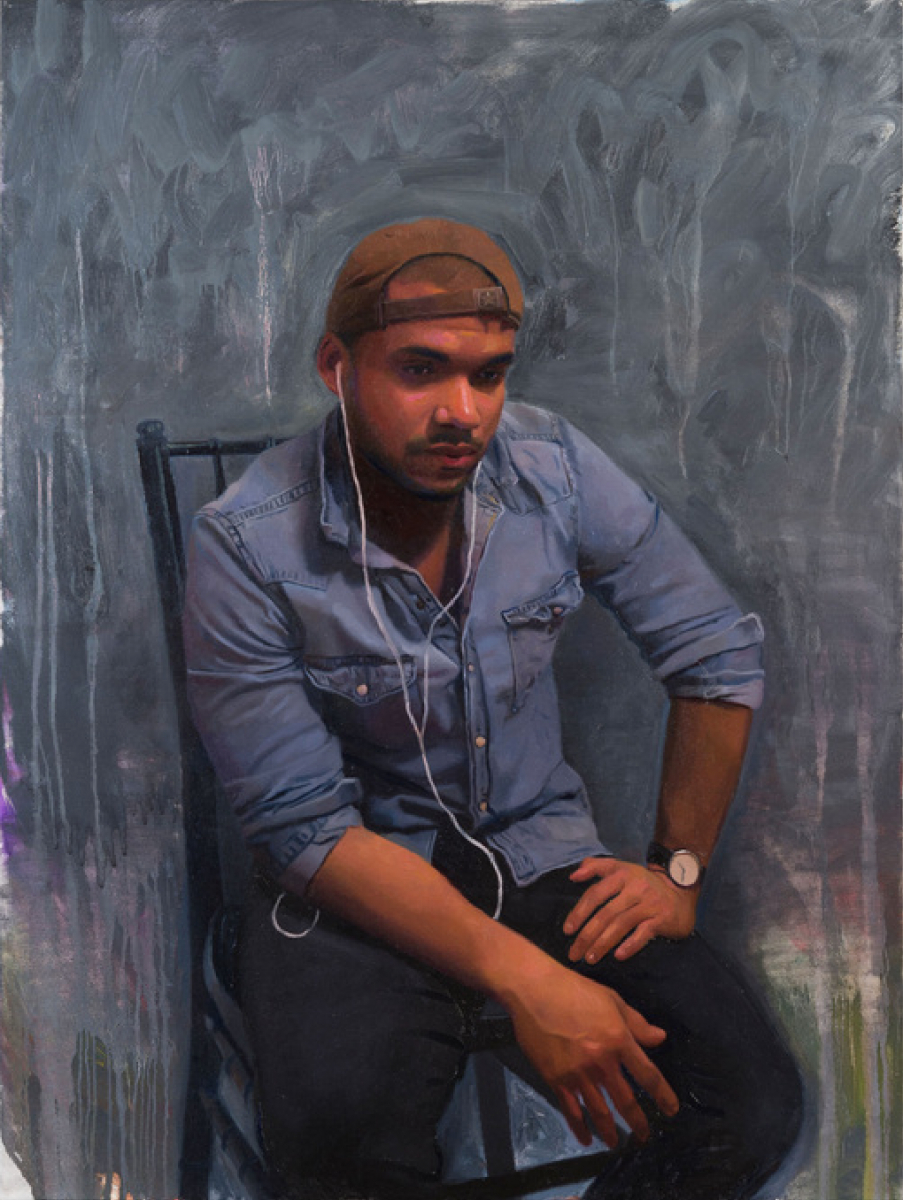 Irvin (Portrait of Irvin Rodriguez), 2017
Devon Rodriguez
Oil on Canvas
40 x 30 inches (L x W)
Devon Rodriguez portrays artist friend Irvin Rodriguez in a pensive, relaxed pose set against an abstracted background. While the painterly expression is classical— reminiscent of Diego Velázquez—the subject is firmly planted in today's world through dress and a few skillfully rendered objects. Rodriguez seeks to touch the viewer by capturing his subject's candid, warmhearted simplicity in an intimate study of character and emotion. This painting celebrates a fellow artist and hero, someone whom Devon greatly admires and feels deep affinity with. More than merely rendering physical characteristics, Rodriguez seeks to honor his subject by adding lavish, intangible layers of affection—only visible by those who understand the joys of creative connectedness.
---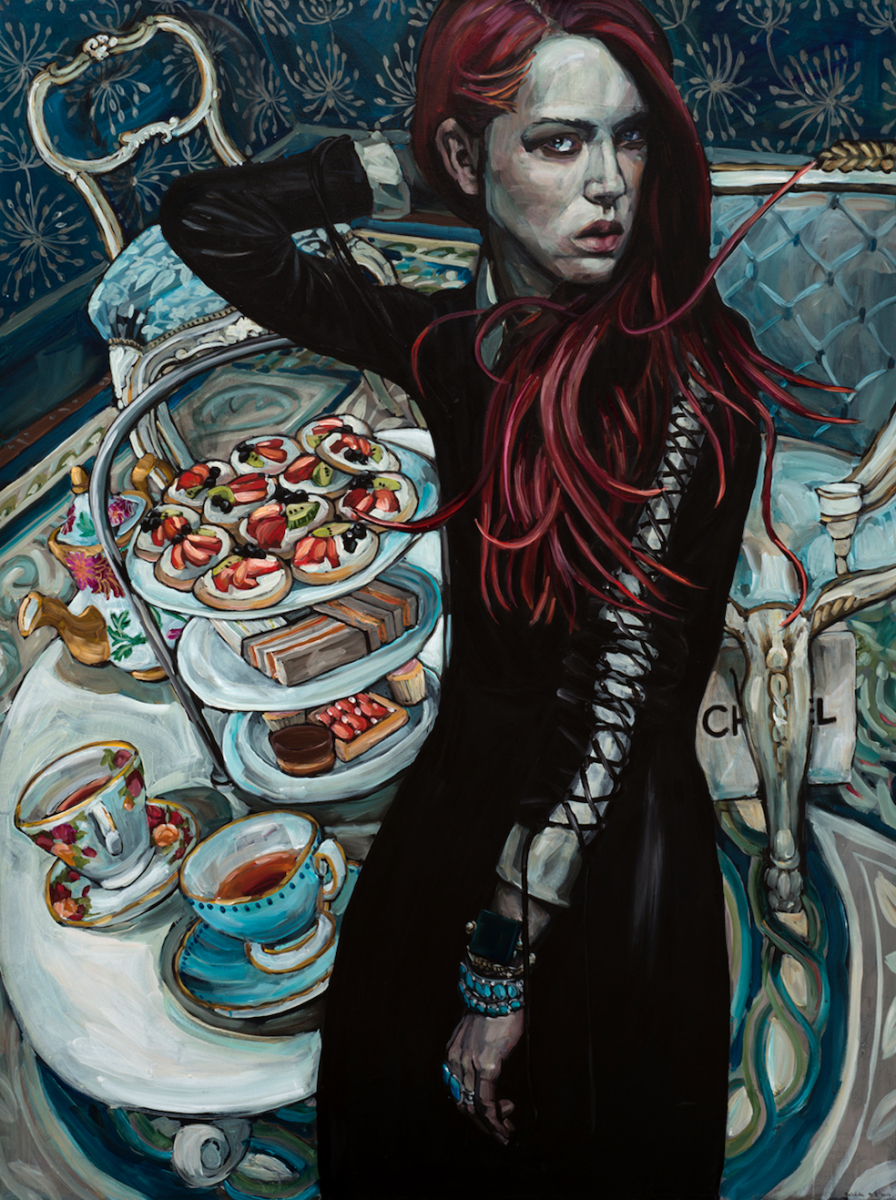 Ladies Who Lunch
Belinda Eaton
Oil on Canvas
46 x 33 inches (L x W)
Belinda Eatons paintings are her world, her fascination for people, plants, animals and color. They are how she perceives things with all their energy expressed through color, paint and the power of the brush stroke. Markings tattooed and mapped across the skin or lost in decoration, ornament Identity impossible to place and unchanged in a nomadic world. She is currently working in oils enjoying the purity of their pigments developing her brushstrokes and love of expressing in paint.
---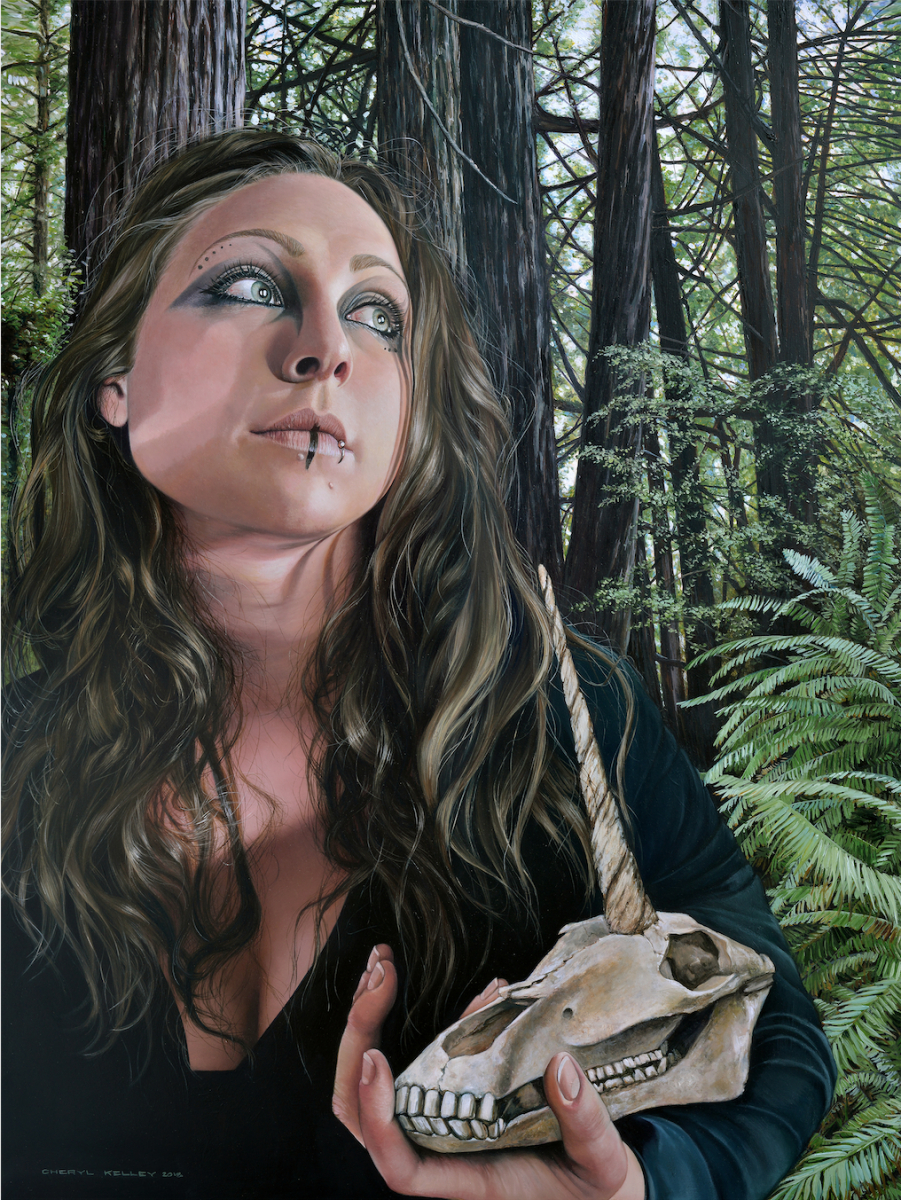 Lucid, 2018
Cheryl Kelley
Oil on wood panel
24 x 18 inches (L x W)
Cheryl Kelley's new work seeks to explore an interaction between memory and dream. There is a confrontation, an uncomfortable intimacy which she is trying to achieve. Her hope is that the images create a portal, inspiring the viewer to go deeper into their own inner space.
---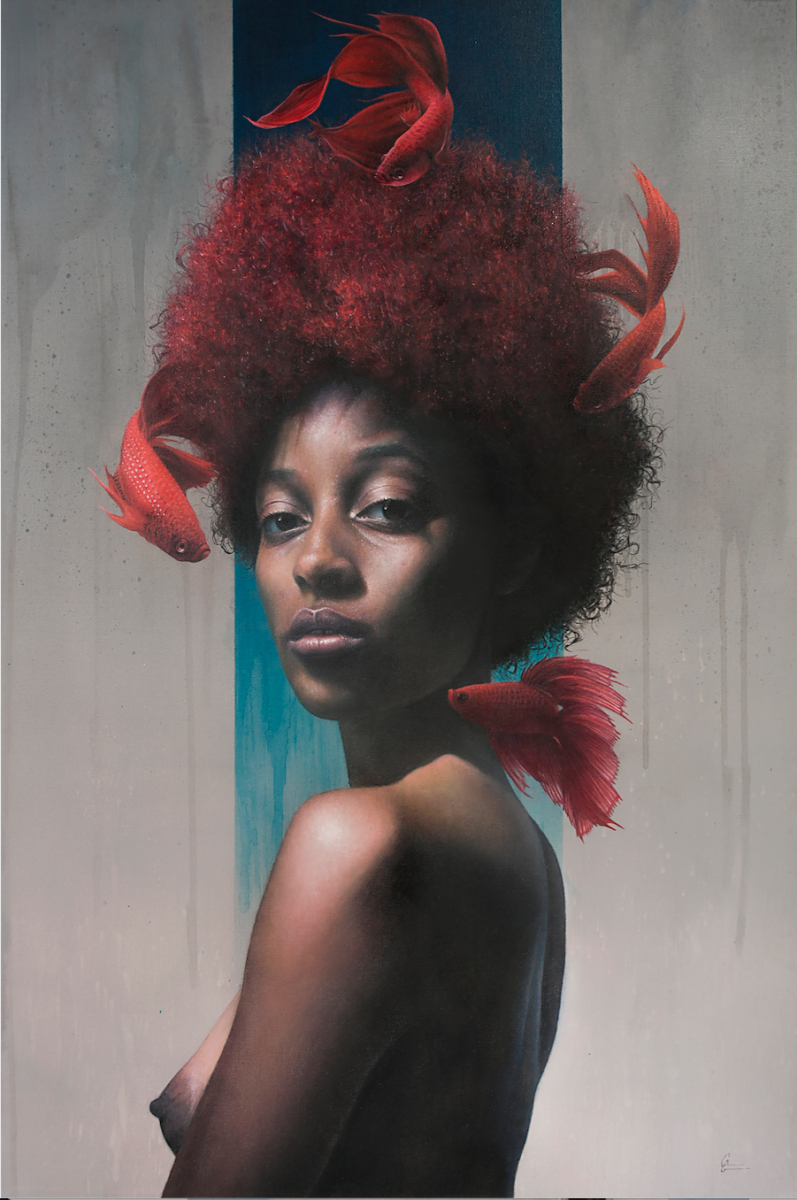 New School
Grant Gilsdorf
Oil on Canvas
36 x 24 inches (L x W)
Grant Gilsdorf is an emerging figurative painter living and working in Columbus, Ohio. While it is difficult to place his work in the lane of a singular genre, his paintings combine elements of realism, symbolism, and portraiture in a uniquely spellbinding fashion. Grant's work often features figures in direct communication with the viewer. Their meticulously rendered faces gaze out in arresting intensity. When combined with the symbolism, or "clues" (as the artist calls them) found within each piece, viewers discover greater narratives hidden within the paintings. Available from Gallery 1261.
---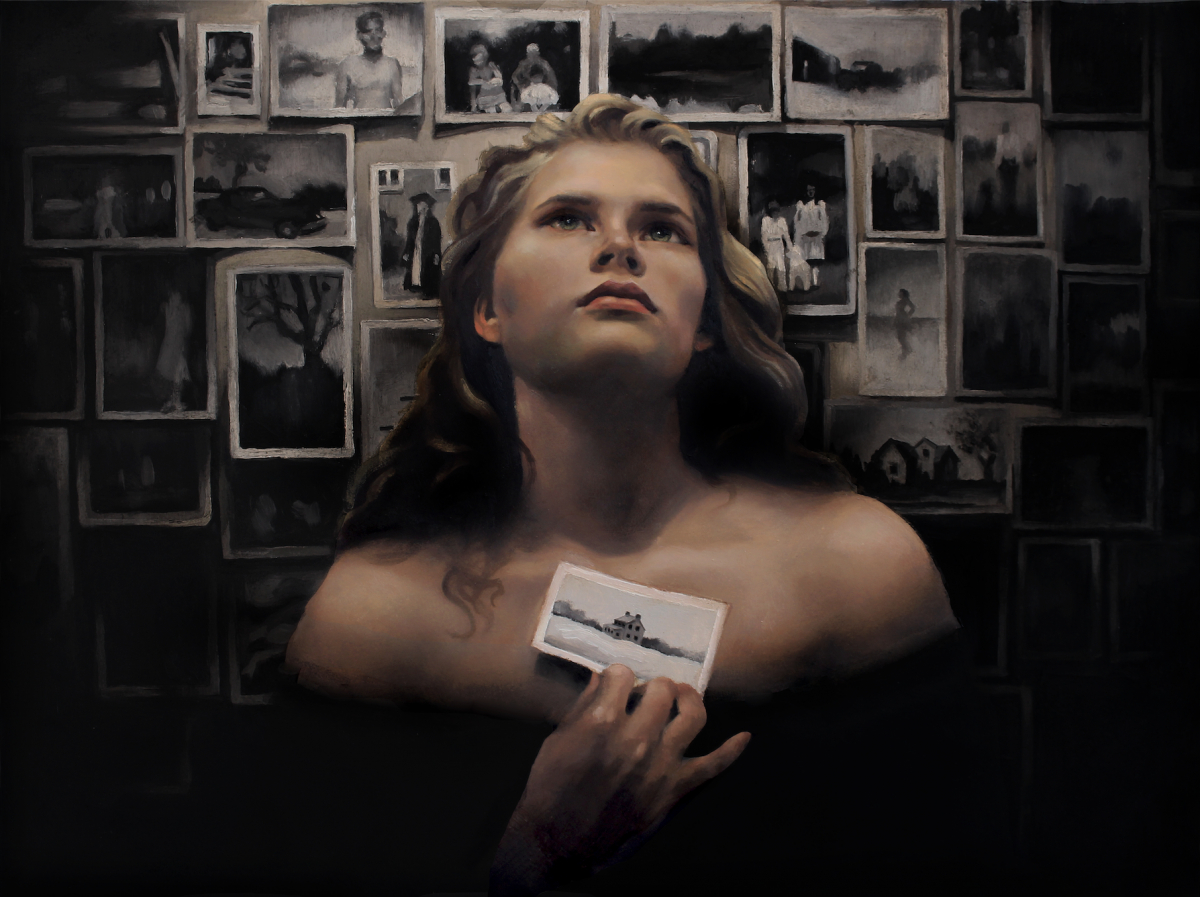 Our Own Secret Hideout
Mary Chiaramonte
Oil on Panel
16 x 20 inches (L x W)
Chiaramonte's figurative realism offers a narrative that echoes a provocative daydream, communicating both the human disposition and the mysteries therein. Her unending exploration surfaces in her oil paintings with an ambiguity that asks the viewer to wonder at our world as she does.
---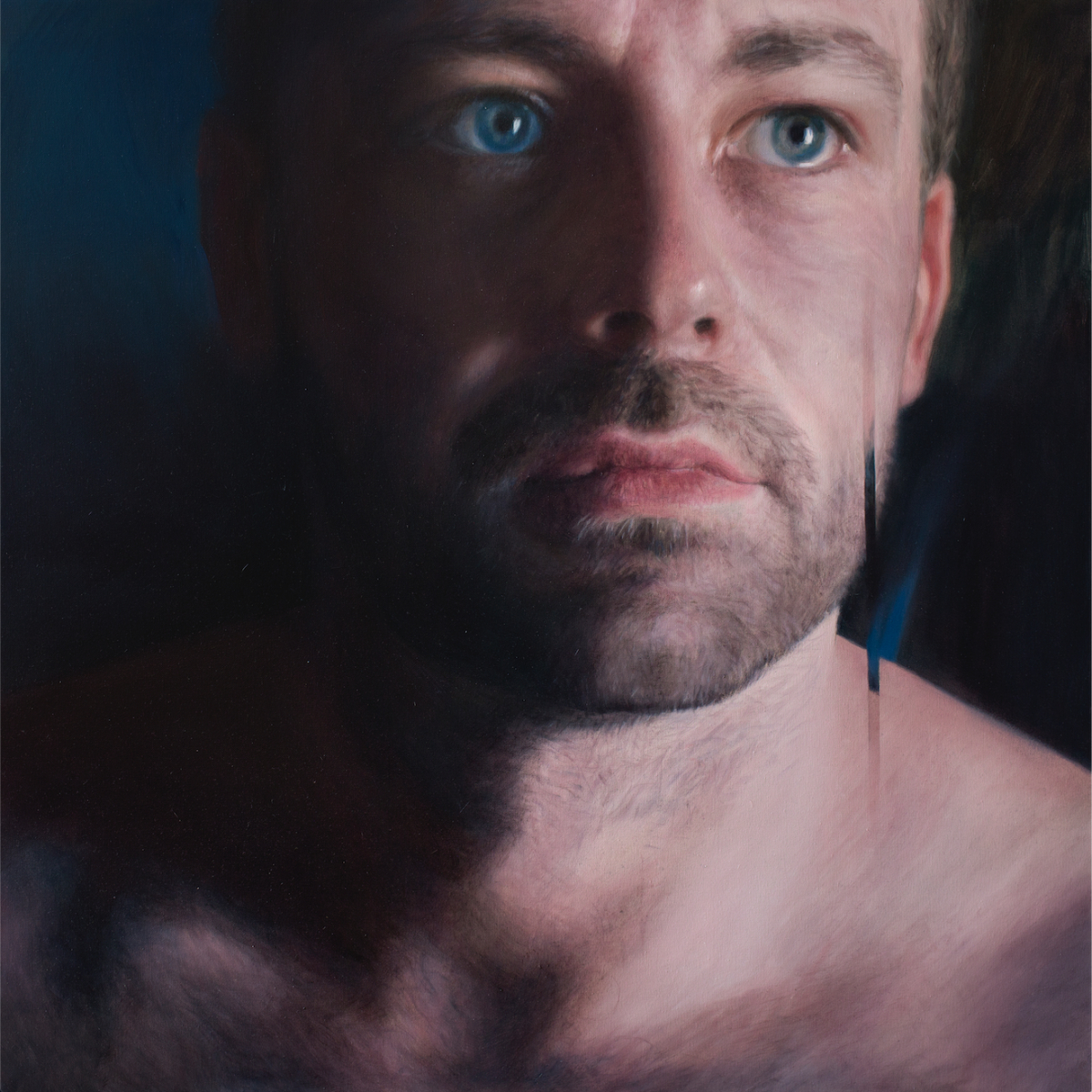 Sergei, 2016
Viktoria Savenkova
Oil on Canvas
40 x 40 inches (L x W)
Viktoria Savenkova builds an emotional and psychological dialogue with the spectator. The artist creates unfinished stories immersing herself in her own inner world while involving the viewer. She introduces her own concept of ​​beauty and emotion, drama and sensuality.
---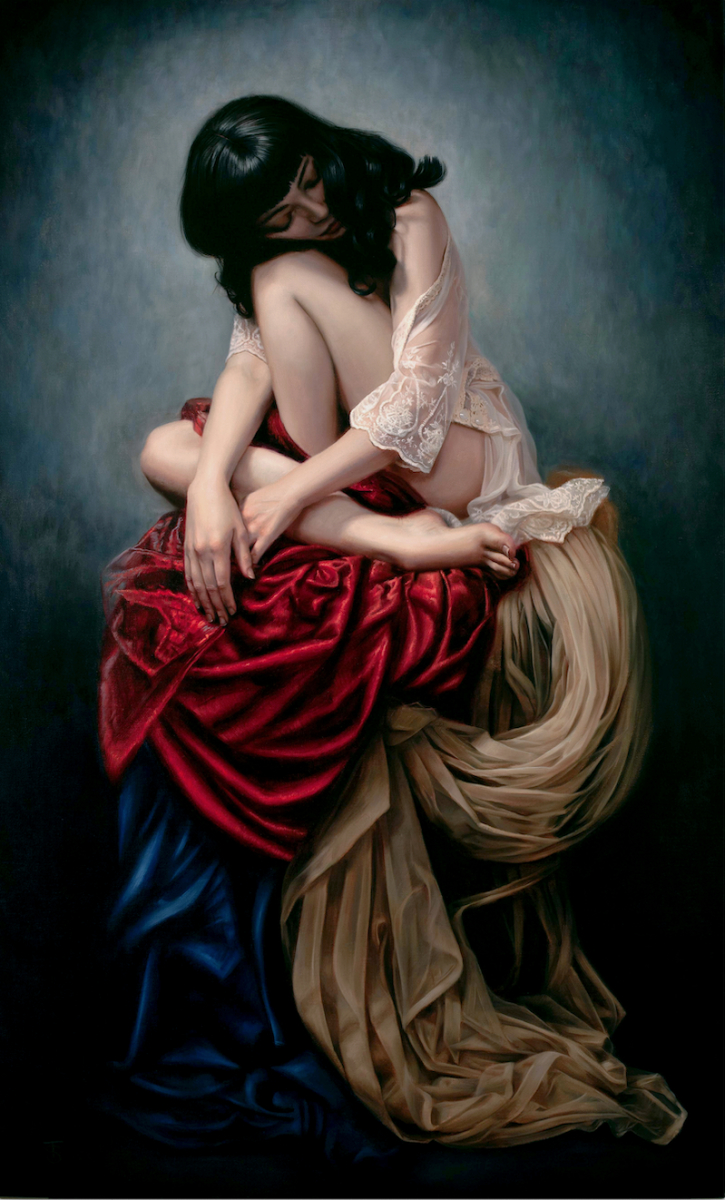 Somewhere In Between
Tina Spratt
Oil on Linen
36 x 22 inches (L x W)
"It's a moment that I'm after, a fleeting moment, but not a frozen moment." Andrew Wyeth. Spratt has always been fascinated with capturing the realness of her subject, whether that's a figure in a room setting or surrounded by interesting fabrics. She doesn't want to just represent it but somehow get underneath the skin of it, so she can feel the textures and feel the mood of the person she's painting. Spratt strives to truly be able to represent the simple everyday intimacy she finds so fascinating, she needs to immerse myself into making it feel as authentic as possible, then she can truly lose herself in a painting. Spratt's influences are varied form Rembrandt and Vermeer, to Andrew Wyeth, she admires the way they use light in their work, the stories they tell and the intimacy of the Helga series. Spratt tends to build up her paintings in delicate layers of paint which help create the depth and luminosity she's looking for. She also enjoys playing with light in her work and it's ability to tell it's own story.
---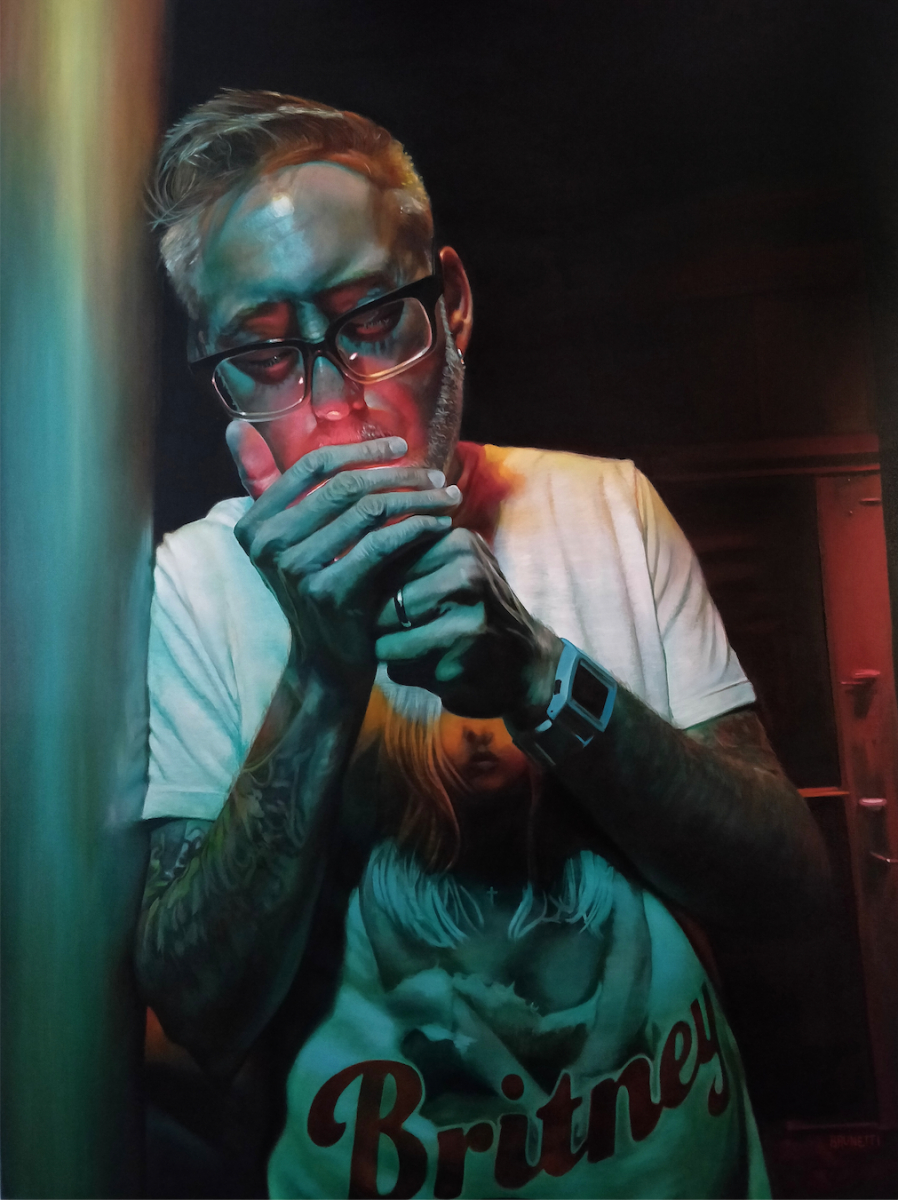 Spark, 2019
Heather Brunetti
Oil on Canvas
48 x 36 inches (L x W)
'Spark' is about a moment in time that illuminates things not seen before. A new path, a new way of seeing or a new passion can suddenly show itself.
---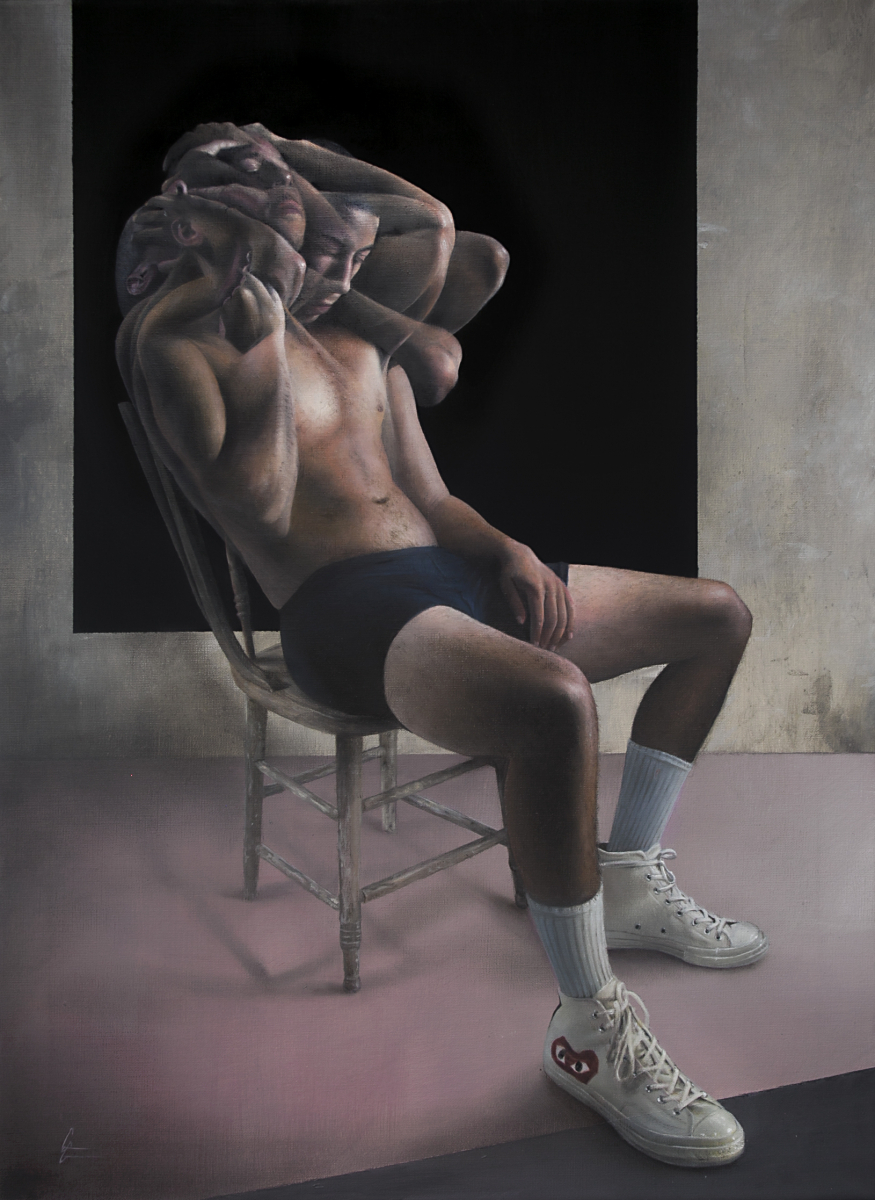 The Dysphoria Of Being Here Now, 2019
Grant Gilsdorf
Acrylic and Oil on Linen
24 x 18 inches (L x W)
Grant Gilsdorf's work often features figures in direct communication with the viewer. Their meticulously rendered faces gaze out in arresting intensity. When combined with the symbolism, or "clues" (as the artist calls them) found within each piece, viewers discover greater narratives hidden in the paintings. For viewers willing to investigate the work, they will engage with complex themes that linger on long after the initial viewing. The compositions and subjects depicted within his work may call upon references to the old masters, but drift into a lane of a that refutes any singular genre. His paintings combine elements of realism, symbolism, and portraiture in a uniquely spellbinding fashion. Grant's art represents a contemporary amalgam rooted in tradition.
---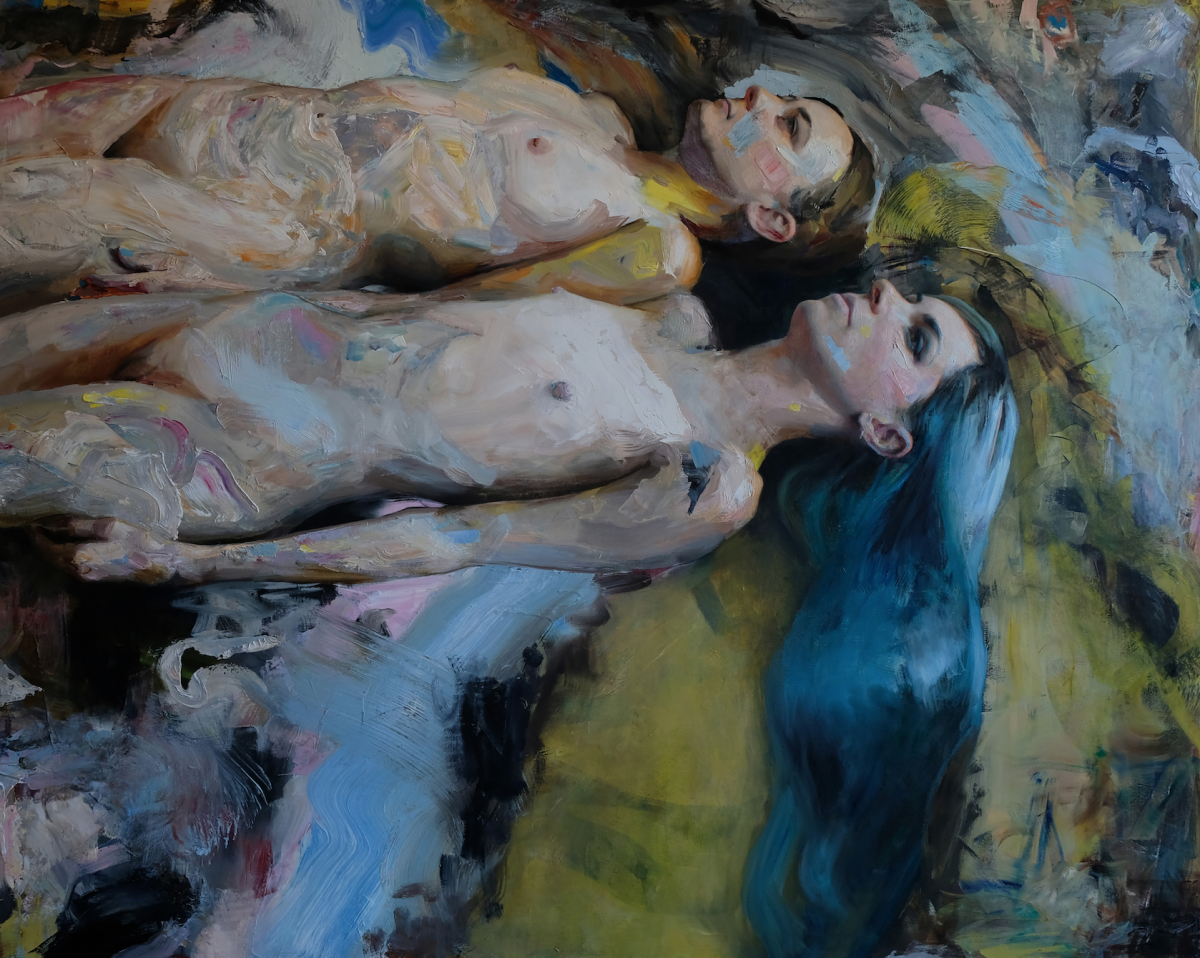 The Forest, 2019
Lucas Bononi
Oil on Panel
40 x 60 inches (L x W)
Lucas's paintings are a reflection of us in present time. Currently, he is developing a body of work pertaining to today's beauty and the chaos of our desertion to human experience through updated sociological norms. Oil painting being his primary medium he creates tangible connections with physical paint quieting our digital sensibility and asking us to slow us down to think of the big picture. With this exploration of ontology Lucas wishes to invite the spectator to discover and interact with "The Forest" the title of his current body of work.
---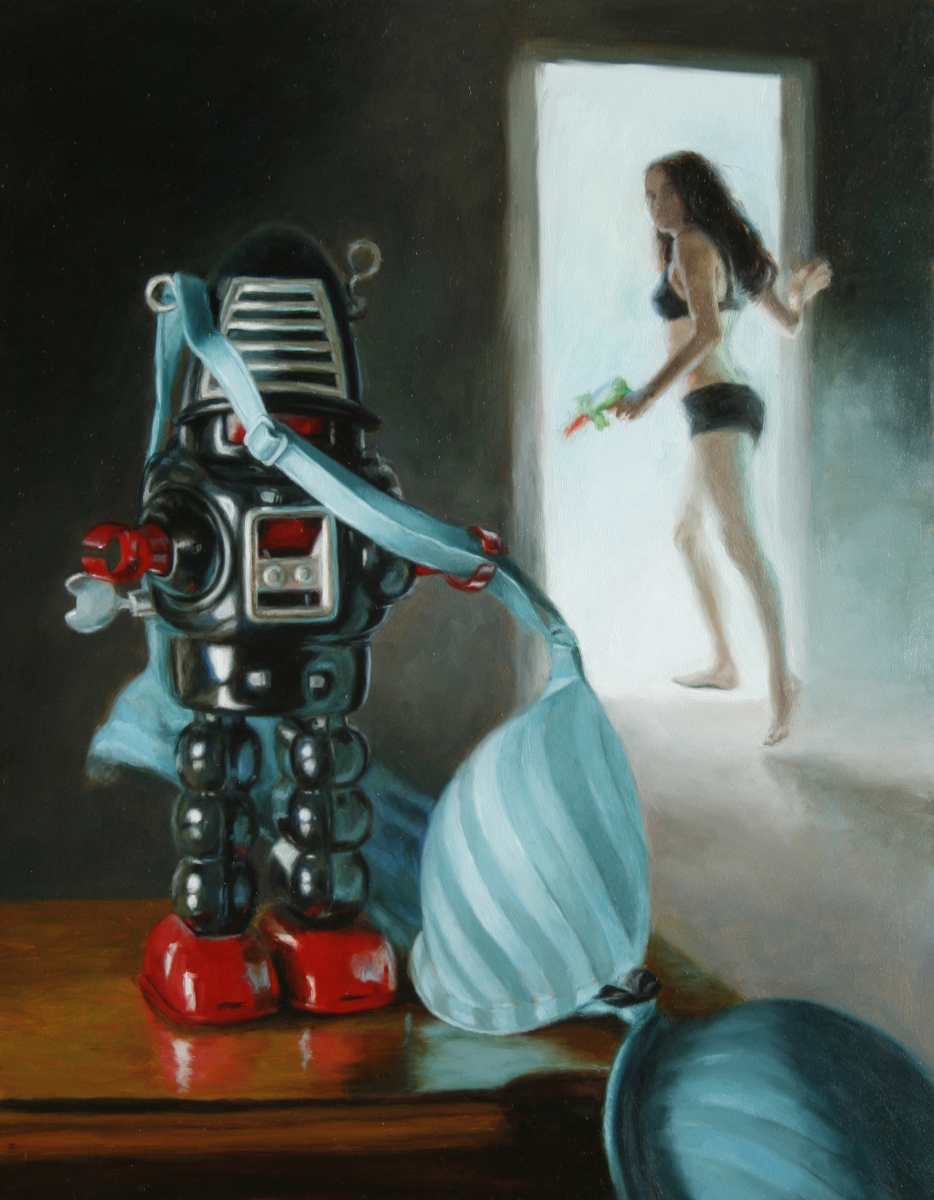 Veni Vidi Vici
Terry Strickland
oil on canvas
14 x 11 inches (L x W)
Terry Strickland uses oil paint and works in an old masters style with a modern sensibility. Her concepts begin as personal narratives that are translated through her painting process into relatable paintings. She has seen first hand how art, particularly realistic figurative work has the power to foster empathy in those viewing it and creating it.
---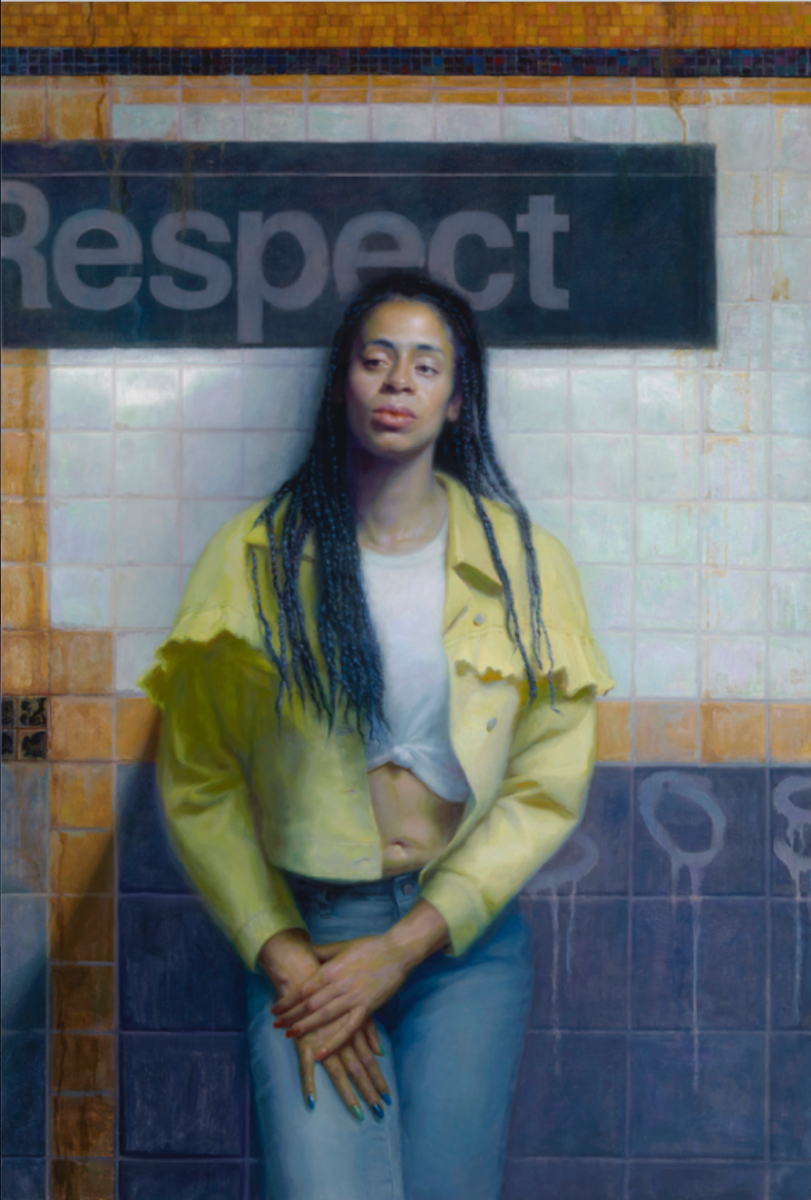 Wisdom, 2019
Manu Saluja
Oil on Canvas
54 x 36 inches (L x W)
Manu Saluja's work hangs in public and private collections in the U.S., Canada, U.K. and India. Her paintings have been exhibited at the National Portrait Gallery in London, the Royal Ontario Museum in Toronto, The Reach Gallery Museum in British Columbia, and the Wausau Museum of Contemporary Art in Wisconsin. She is the winner of the 2019 BP Portrait Travel Award, and a 2013 recipient of The Stobart Foundation Grant. Her current work depicts moments and tattered landmarks along her New York City commute. Combining realism with elements of abstraction, she seeks to express the vulnerability and resilience that coexist in people, places and objects. .