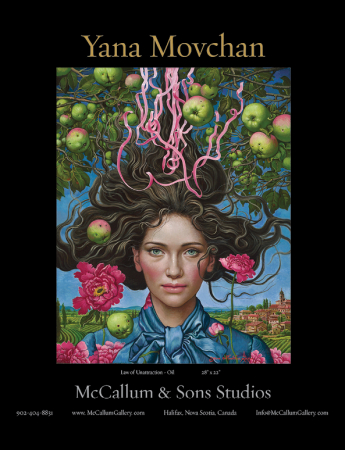 McCallum & Sons Studios
6/1/2022 - 6/30/2022
---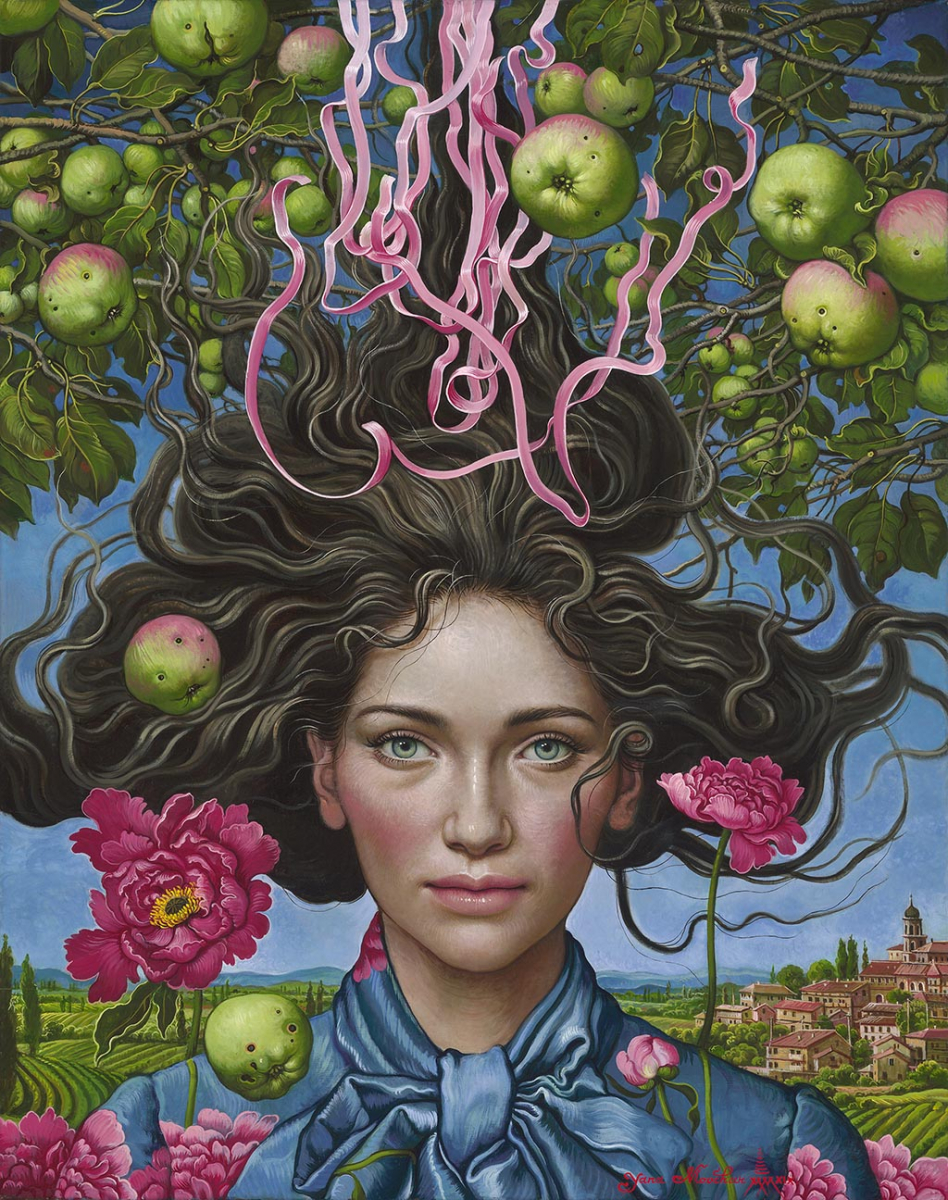 Law of Unattraction
Yana Movchan
Oil on Canvas
28 x 22 x 0.75 inches (L x W x D)
In this captivating painting, Movchan plays with perception and gravity. The rosy hue of the apples is mirrored in the pink cheeks of the central figure and the bright petals of the peonies. The peonies are both printed on and growing from her clothing, creating an elegant trompe l'oeil.
---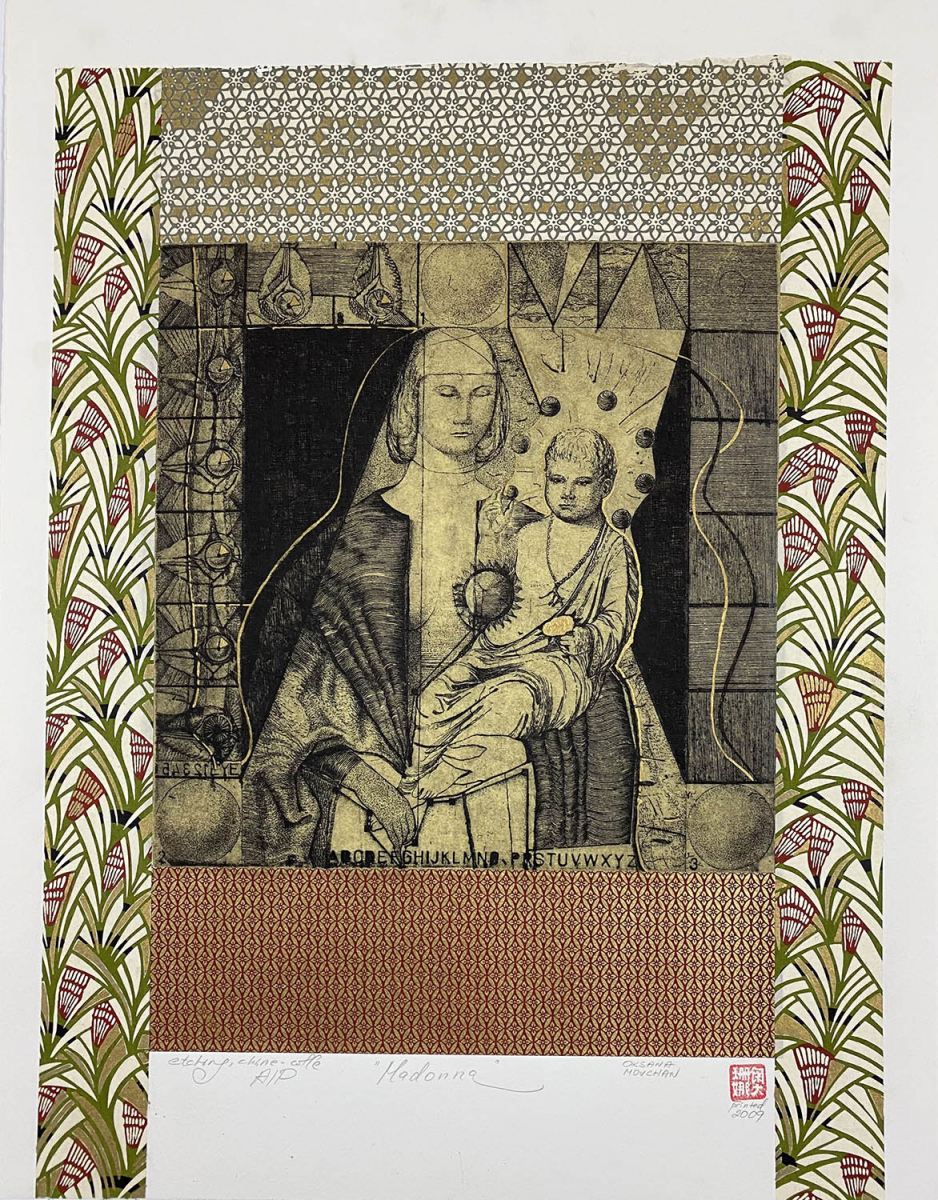 Madonna
Oksana Movchan
Etching, chine colle, hand coloured
21.5 x 16 inches (L x W)
---
Multiple Perspectives
Yana Movchan
Oil on Canvas
24 x 30 x 0.75 inches (L x W x D)
Here, Movchan presents a complex sum of perspectives. Engorged and unnatural sized fruit appear as though flying out from the center of the blue and white china plates. The pale sky behind the larger china plate crumples like linen, texturally amplifying the two fighting lobsters in the middle of the scene. In contrast, minuscule pomegranates, pears, and grapes mingle on a small plate in the right corner next to a teapot, which the artist has held onto from her early life in Ukraine. Four pomegranate seeds appear like tiny drops of blood on the table, adding to the chaos of the scene.
---
---
---
---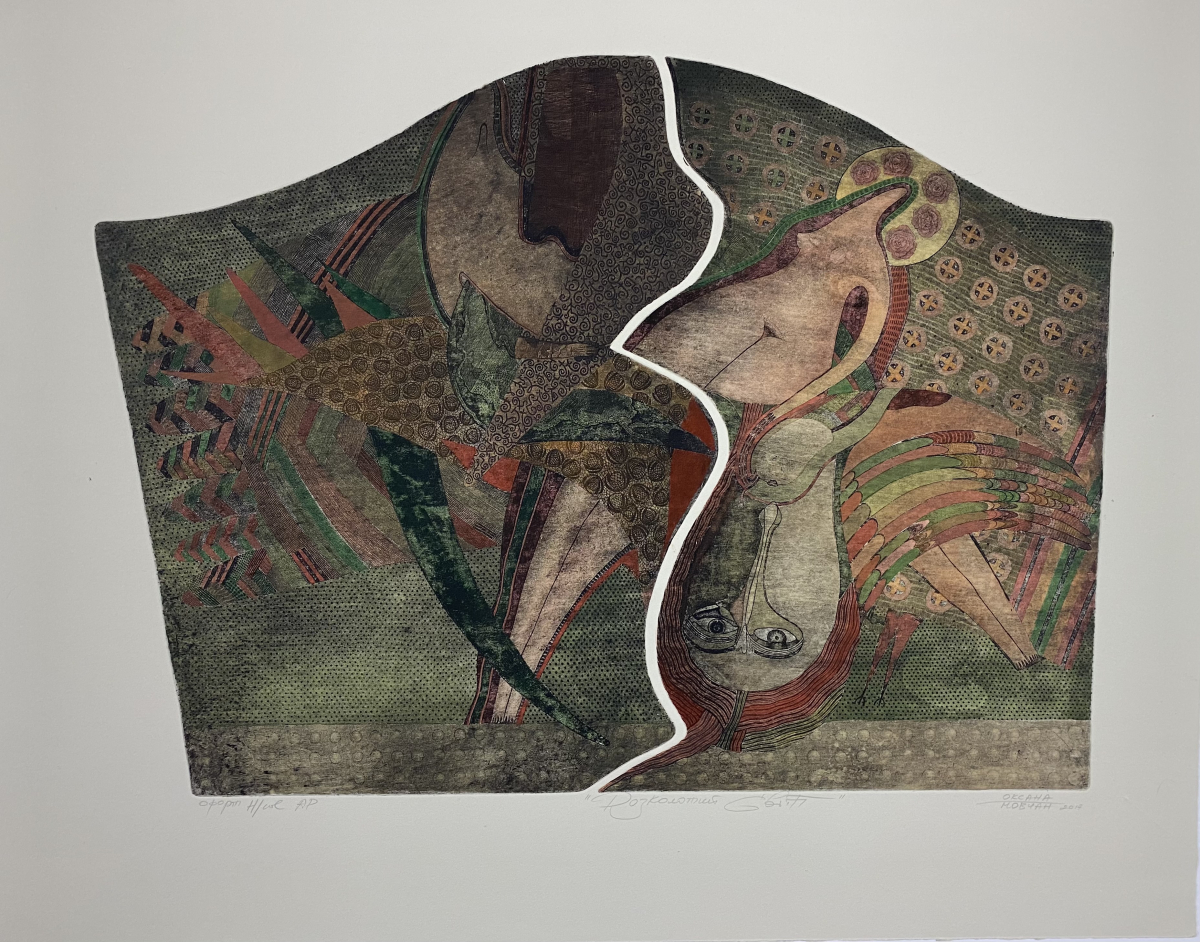 Split World
Oksana Movchan
Etching, aquatint, hand coloured
21.5 x 29.5 inches (L x W)
---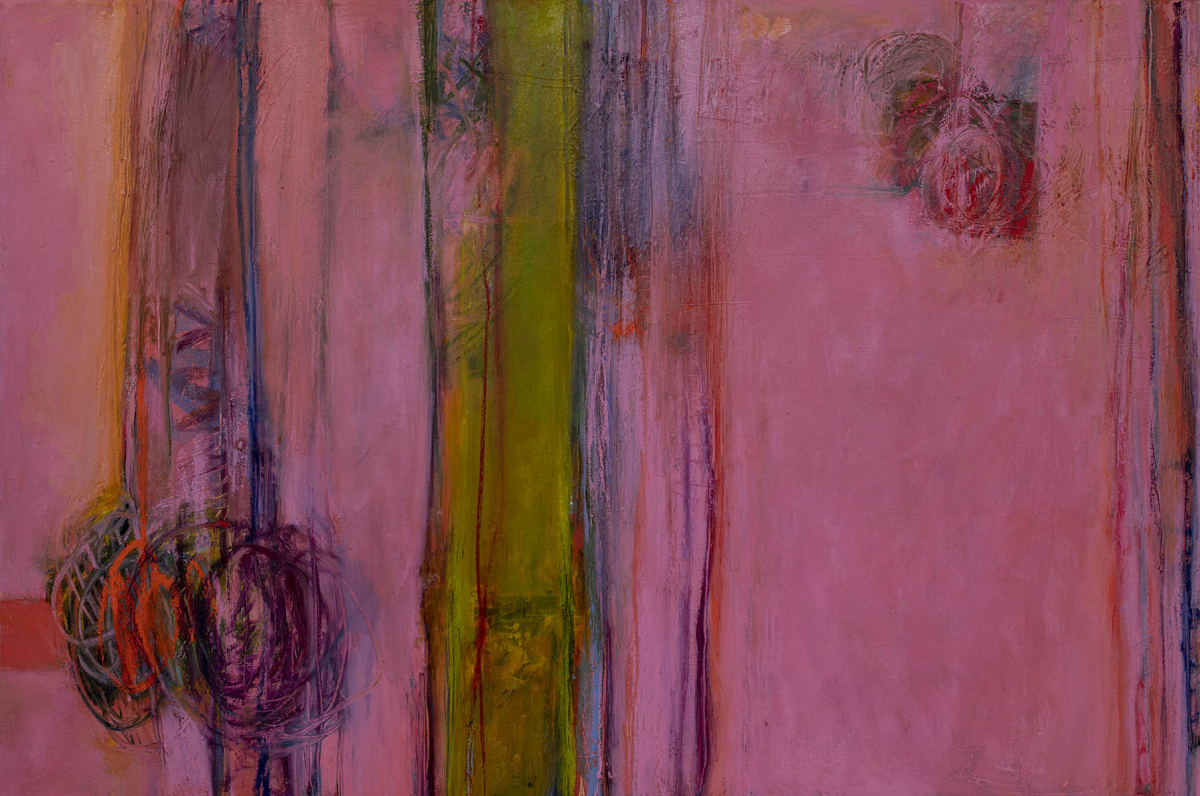 The Cost of Living No.1
Leya Evelyn
Oil and Collage on Canvas
40 x 60 x 1.75 inches (L x W x D)
Pink is usually thought of as pretty, when in fact it is much more. Pink can be forceful, possessing a powerful emotional charge when coupled with orange and less quiet colours. The bright green dividing the canvas amplifies the pink tones, lending them the authenticity of nature.
---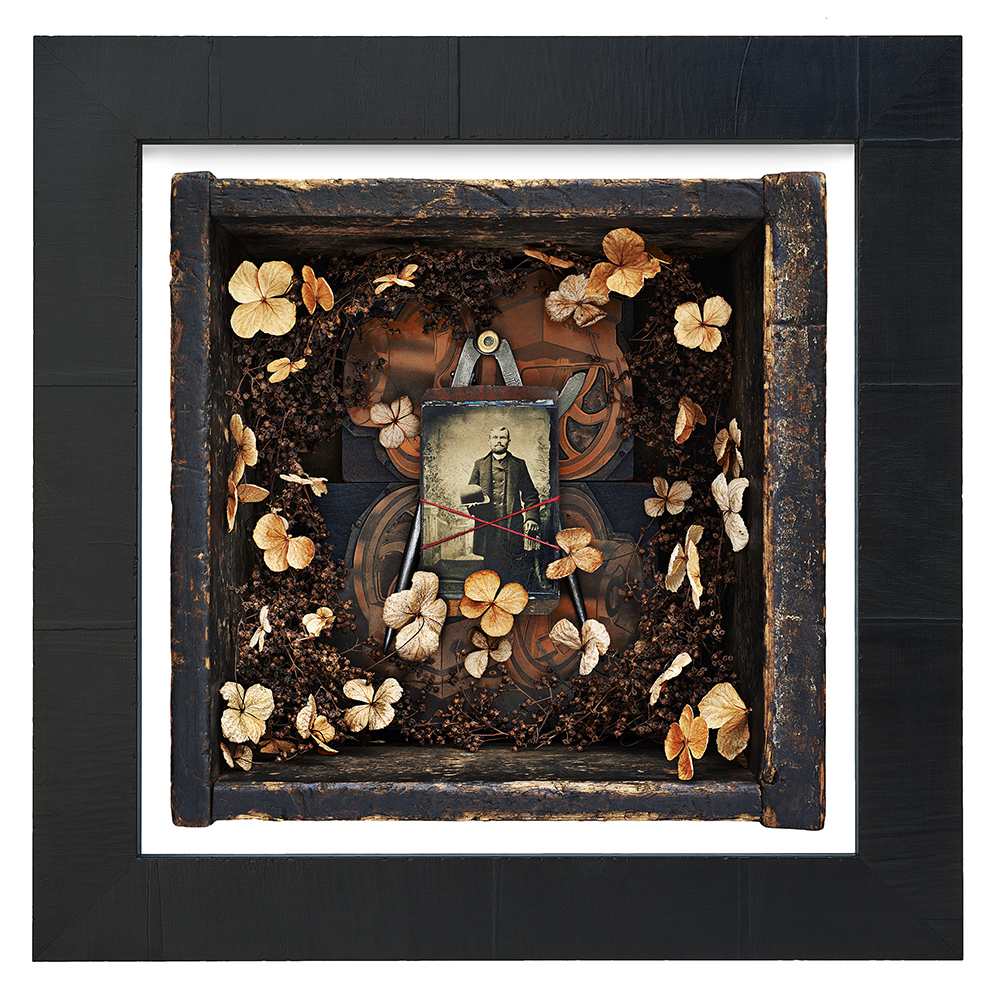 TinType Man Holding Hat
David Muir
Hahnameuhle Fine Art Paper
17 x 17 inches (L x W)
---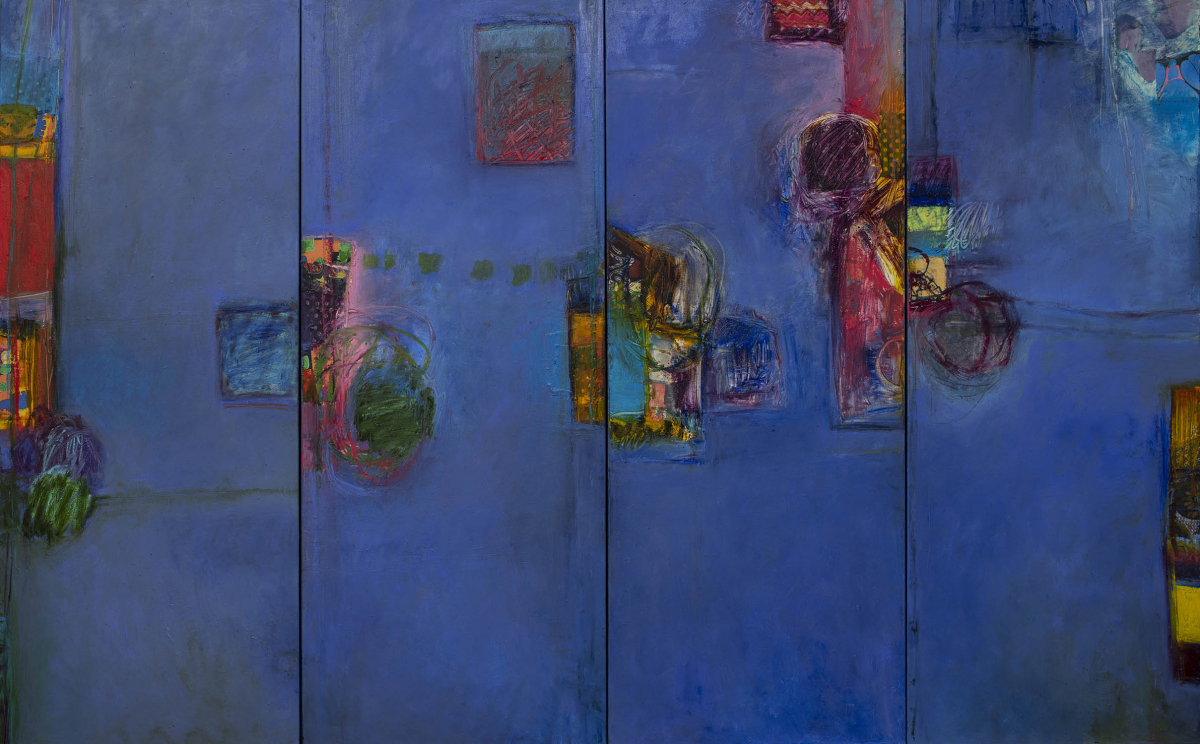 Titled No.2
Leya Evelyn
Oil & Collage on Canvas
60 x 96 x 1.75 inches (L x W x D)
The blue in this painting is subdued by accents of colour and intersecting shapes moving across the panels. Though each panel is unique, their interaction is a quiet song; each panel a window into another world.
---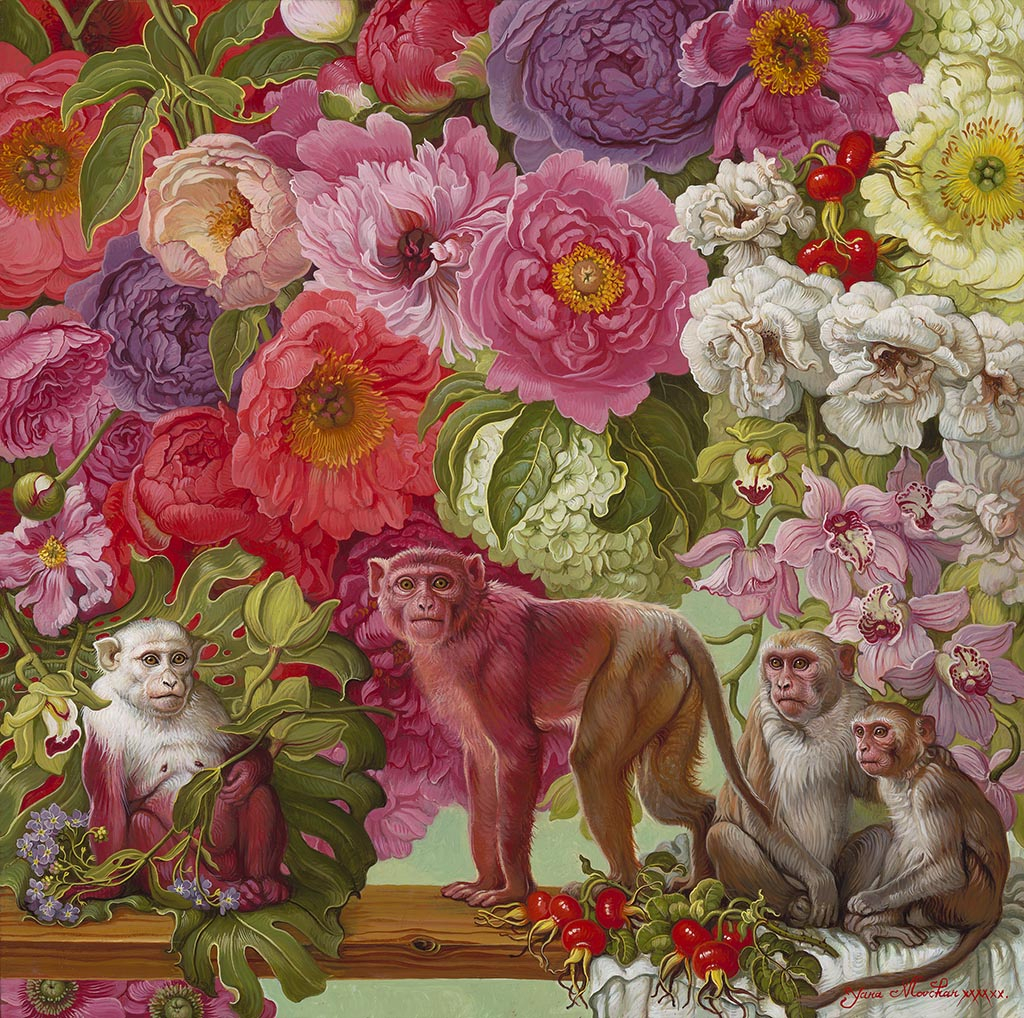 Transition Towards Nature
Yana Movchan
Oil on Canvas
30 x 30 x 0.75 inches (L x W x D)
In this vibrant painting, purples, pinks, and reds erupt from the left side of the canvas while pale florals droop on the right. The pink monkey on the left sits cocooned in a vibrant green leaf, contrasting the plain brown monkeys on the right. The monkey in the middle stares out at the viewer – the left half of his fur tinged with pink, marking his transition into nature. The artist states, "by knowledge we change into nature, if we are not already attached to nature." Amongst other florals, hydrangeas, peonies, roses, and rosehips make up the intricate floral backdrop to the monkey's play.
---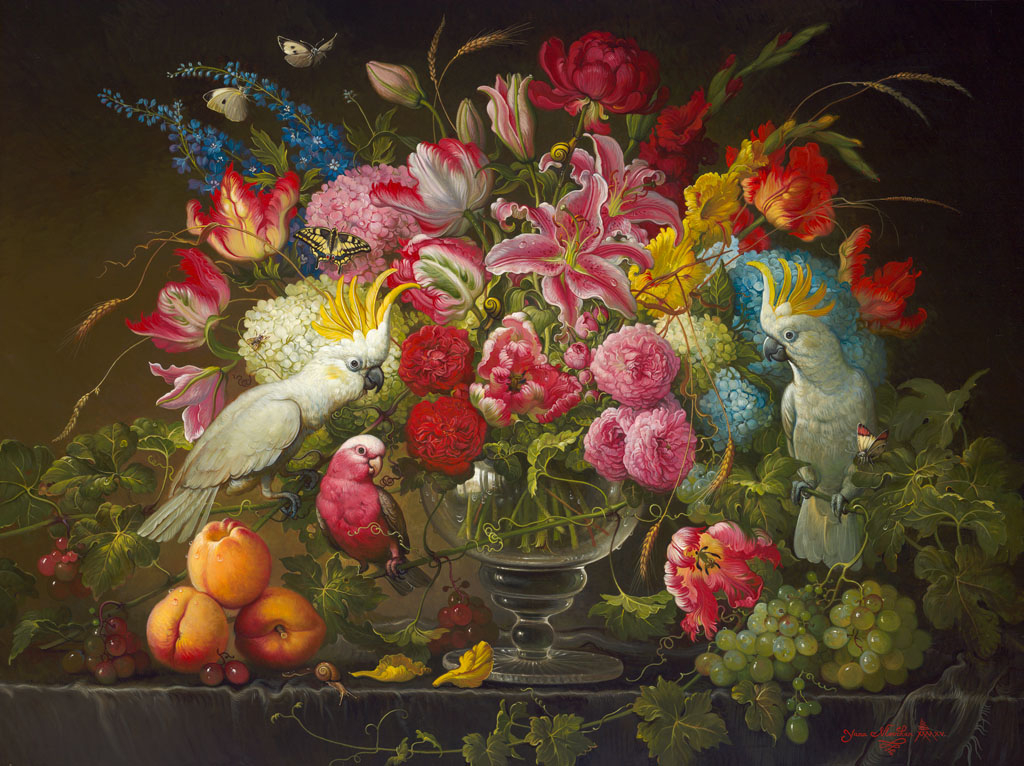 Vibrant Floral
Yana Movchan
Oil on Linen
36 x 48 x 0.75 inches (L x W x D)
In this exquisite still life, two cockatiel birds with vibrant head crests hover on either side of a luminescent crystal vase. Fleshy peaches and bunches of grapes are placed instinctually around the vase, interspersed with grape leaves. Hydrangeas, tulips, star-gazer lilies, plateolas, field grasses, and roses burst from the vase, while fluttering moths and butterflies seek spots to rest and snails crawl up the flowers' stems. This work is an exceptional example of Movchan's capacity to recreate and reimagine the ordinary.
---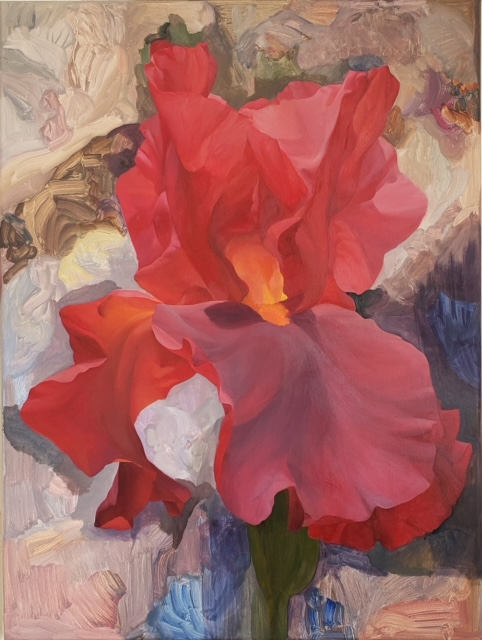 ---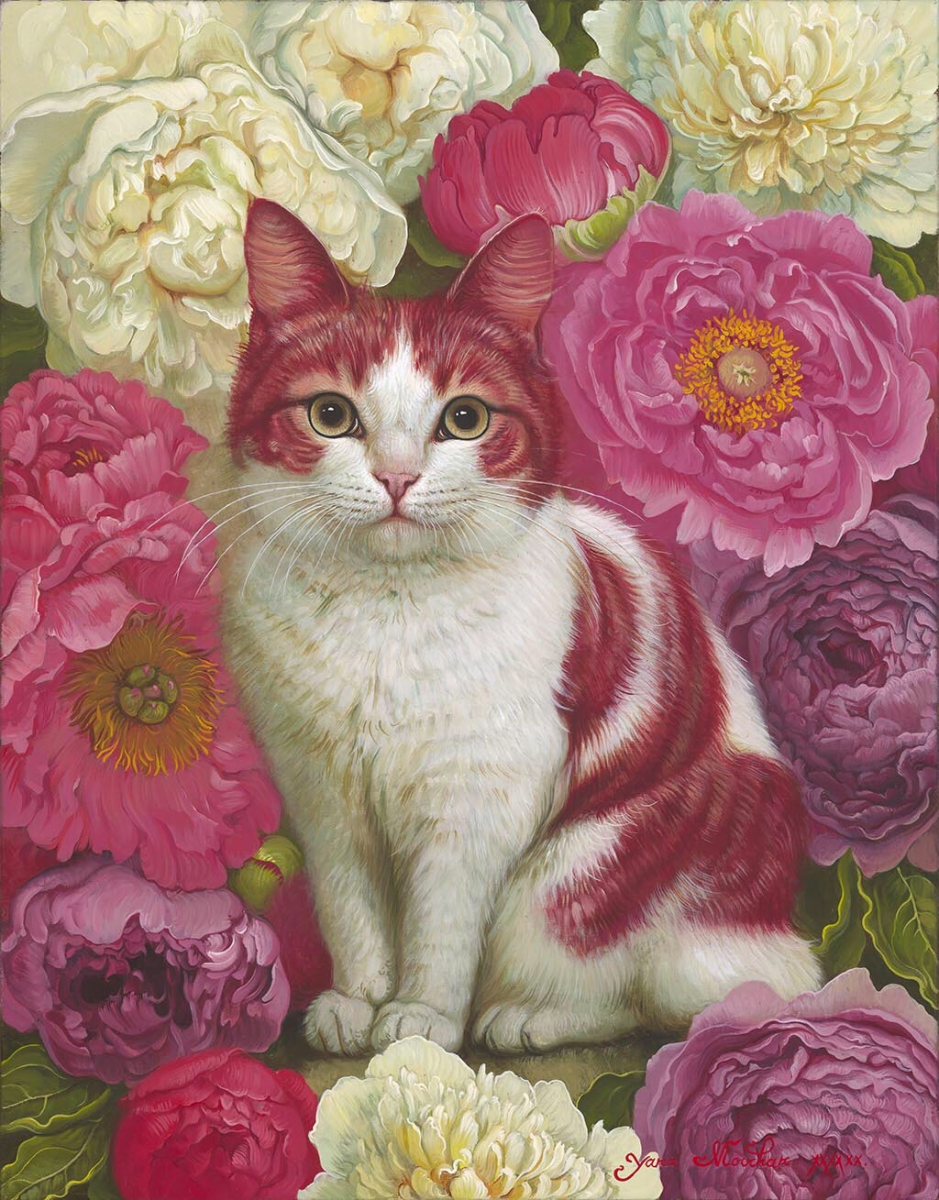 We Are What We Surround Ourselves
Yana Movchan
Oil on Canvas
18 x 14 x 0.75 inches (L x W x D)
In this painting, Movchan reimagines her own cat, Masha's, stripe pattern. The attentive cat with pink stripes sits surrounded by a plethora of florals in shades of purples, pinks, yellows, and whites. Slightly dirty and matted with dew, she looks as though she is taking a brief rest from playing in the garden. Like a chameleon, her enjoyment of nature has almost made her one with it, allowing her fur to take on the hues of her surroundings.