For more than two decades, Geoffrey Johnson has mesmerized viewers with his quietly introspective paintings that capture the mood and character of the contemporary urban landscape as well as timeless interiors. Using an impressionistic style, Johnson's work lies in that seductive space between realism and abstraction. This has resulted in powerful imagery that offers little details to figure and form.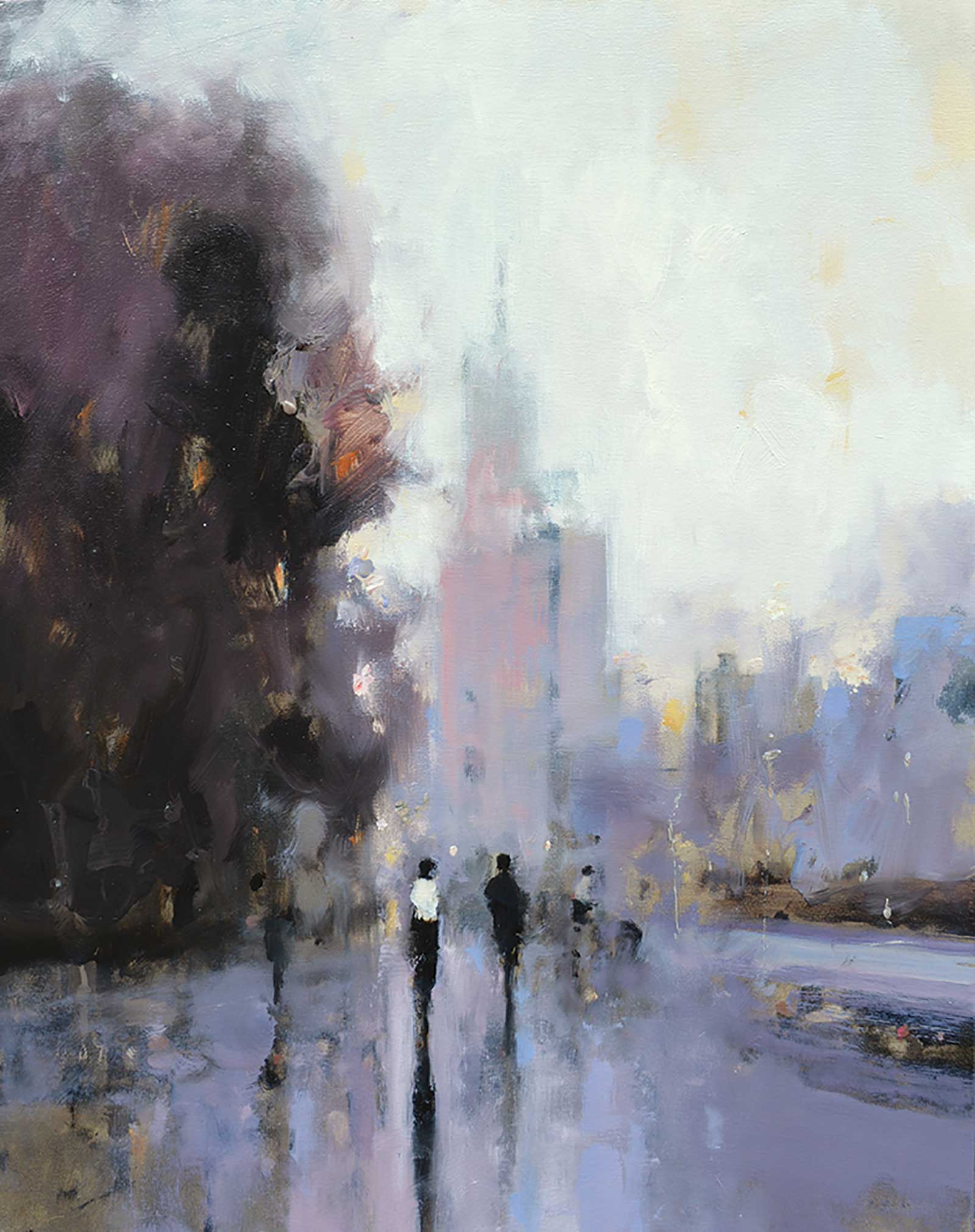 City in Purple III, oil on panel, 20 x 16"
Drawn to New York City for the many recognizable architectural landmarks it offers, Johnson "[wants] to show people juxtaposed with the architecture and create different moods and feelings for each piece." When painting his trademark urban landscapes, he tends toward a monochromatic approach to re-create the feeling of anonymity in the city. The limited palette "is a result of how I see it and I don't think these scenes call for color," he says. "I keep the figures silhouetted and the architecture limited as well because the paintings are not about those things. They are more based on the feelings one gets from the city. The limited or lack of color is all they call for."
Eight People City Line, oil on canvas, 50 x 62"
Johnson has also "always been attracted to interiors, work spaces…[and] personal spaces," where he can experiment with brighter colors and the detail and beauty of historic homes. Inspired by a box of sepia toned photographs found in an attic, the artist has created many sepia toned interior scenes, as well ones "where I used quite a bit of color...it is a nice breakaway, temporarily, to get away from the monochromatic palette."
City at Dusk V, oil on panel, 36 x 48"
For Johnson, "each painting is 1,000 different decisions, thoughts and feelings." The result becomes timeless scenes "dancing on the water of abstraction or of just being." —
Want to See More?
Represented by Shain Gallery
2823 Selwyn Avenue, Suite K
Charlotte, NC 28209
(704) 334-7744 | www.shaingallery.com
Instagram: @shaingallery
Powered by Froala Editor