Growing up in the U.K. and now living in the Pacific Northwest, artist Andy Eccleshall has always been surrounded and fascinated by the atmosphere. "Very often it's quite wet! But through my experiences in the misty lowlands of my home town in England and the misty highlands of Washington state, I've developed a respect and appreciation for subtlety," he says. "A lot of my work is tonal. I like to try to capture mood and atmosphere. I want to place the viewer in my shoes, at the scene. When I paint I try to capture the feeling of the place, the coolness of the air, the warmth of the sun, the excitement of light and contrast."
Eventide, oil on canvas, 30 x 40"
Eccleshall says people often tell him they can "feel the weather" when they look at one of his paintings, and that's exactly what he is trying to achieve. His most recent exhibition consisted of eight paintings based on observations of the beaches at La Push and Rialto, Washington. "This area is rugged and wild with raging surf, roaring wind and massive driftwood," he explains. "The moisture-filled air creates fantastic atmospheric perspective and a subtle light, cooling and restricting the palette."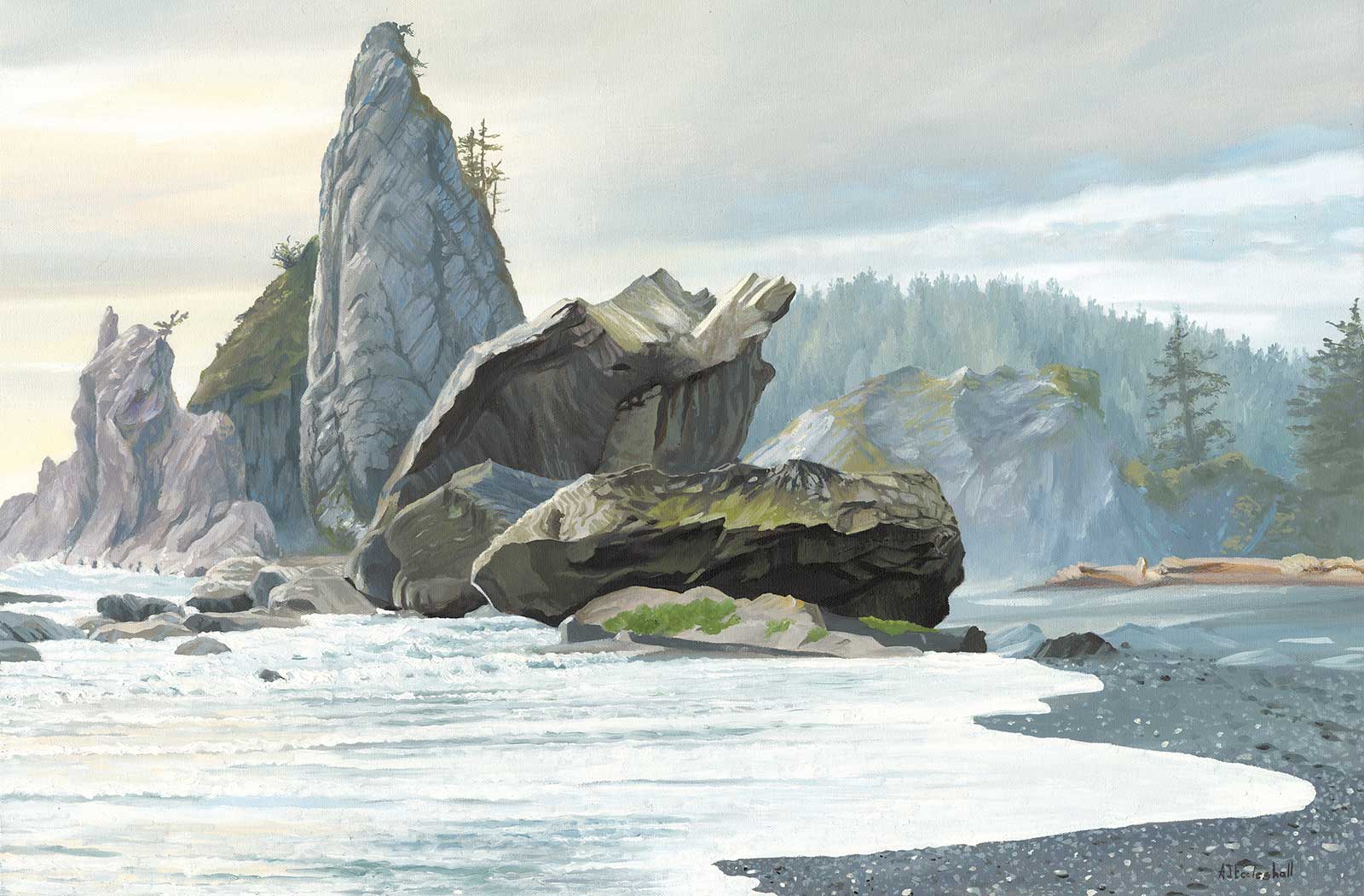 Rialto, oil on canvas, 20 x 30"
Rathtrevor, oil on canvas, 36 x 48"
Not all of Eccleshall's work is so subtle, as he's also obsessed with capturing the sky. He elaborates, "Many of my canvases are quite large and feature no landscape at all. In studying the formation and movement of clouds, I find the delicate changes in tone and the constantly changing balance of light and dark enthralling. In my landscapes I like to keep the horizon line low in the composition, drawing the viewer's focus to the sky."
Eccleshall is represented by Cole Gallery in Edmonds, Washington; Smith & Vallee Gallery, Edison, Washington; Mary Williams Fine Arts in Boulder, Colorado; and Concetta D. Gallery, Albuquerque, New Mexico. —
Want to See More?
(206) 579-3211
www.andyeccleshall.com
Facebook: www.facebook.com/andyeccleshallartist
Instagram: www.instagram.com/@andyeccleshall
Powered by Froala Editor