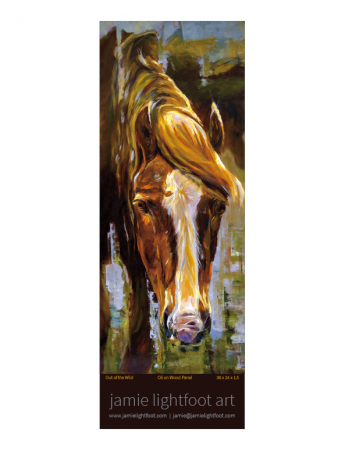 Jamie Lightfoot
4/13/2020
---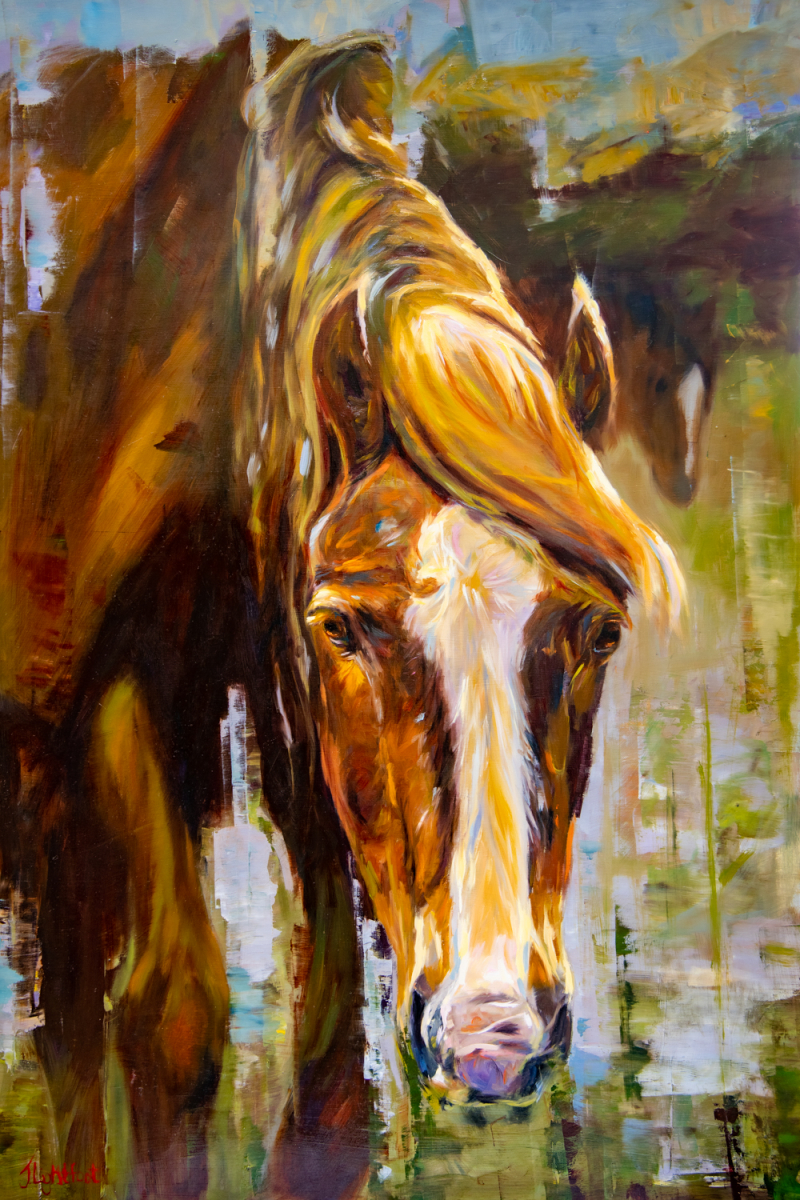 Animals - Out of the Wild
Jamie Lightfoot
oil on wood panel
36 x 24 x 1.5 inches (L x W x D)
Sometimes you have to get lost to be found. So many people focus on the end goals - goals are worthy in that they help take us to our next step. But all that is real is right now. And so it is the steps in the journey that really matter. Sometimes you have to strap on the crampons to make it across the snow. Sometimes you get to stroll along the beach as the warm waters rush over your feet. Sometimes you get lost. But I have discovered sometimes you have to get lost to be found. The photo behind this painting was from an encounter with wild horses on Easter Island, the most remote island in the world. I went to Easter Island, and then later on to Patagonia, with my Dad. Don't be afraid to get lost. How else will you be found?
---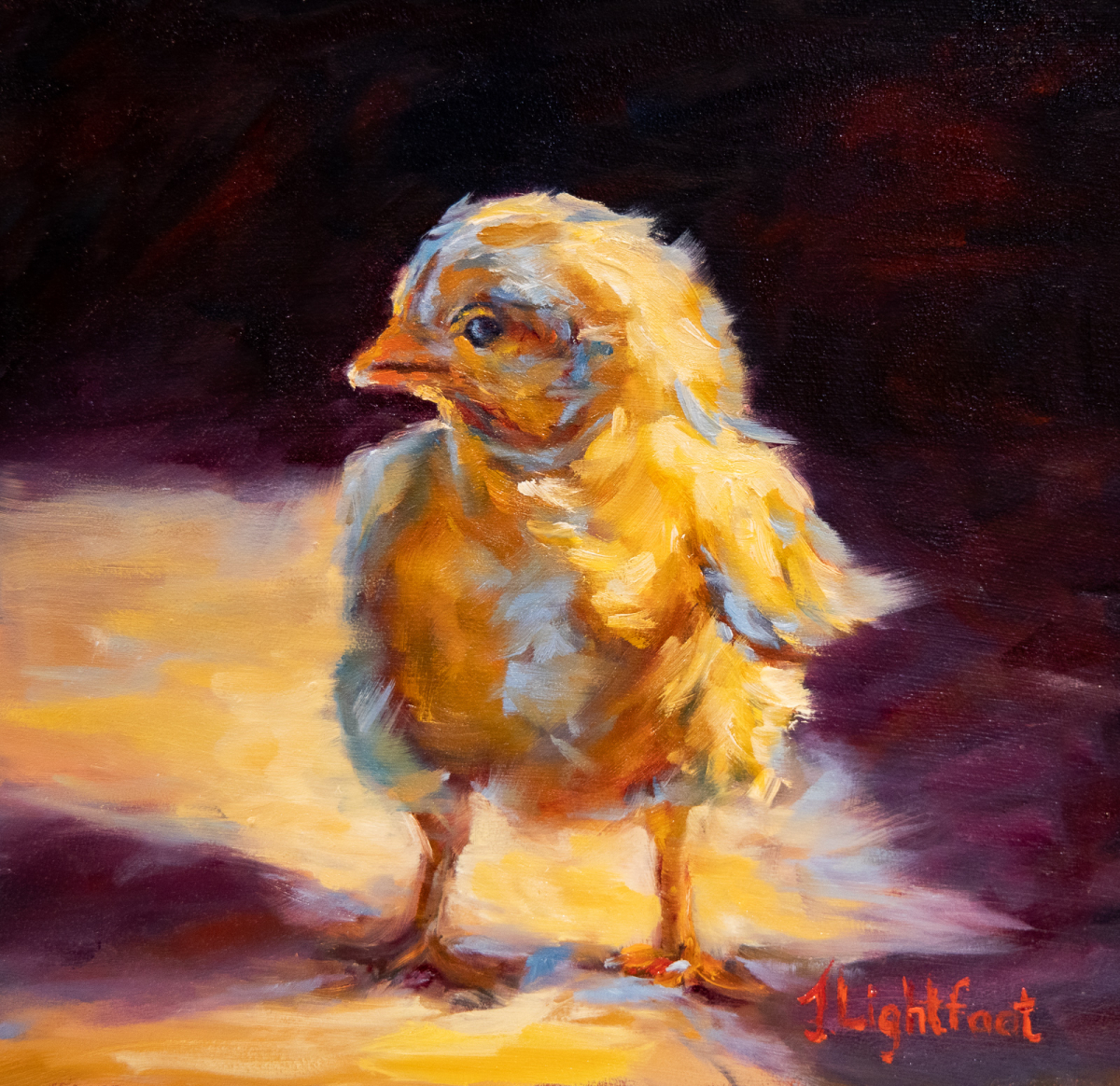 Animals - Penny
Jamie Lightfoot
oil on wood panel
8 x 8 inches (L x W)
Fresh starts and new beginnings. It is not about the end, but each day's journey.
---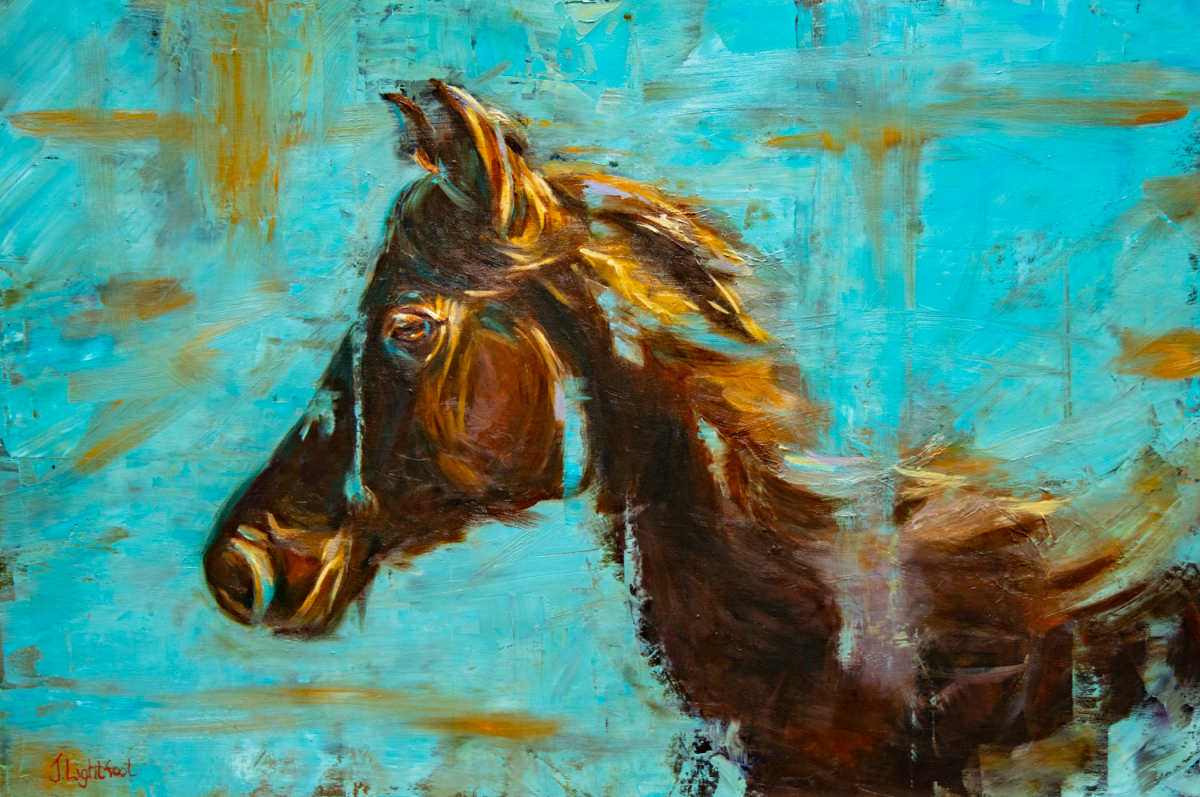 Animals - Run Free
Jamie Lightfoot
oil on wood panel
24 x 36 x 1.5 inches (L x W x D)
Maybe there was a time when I was running away from what I felt like was a life that was not right - a life in which my words and thoughts were not in alignment with my actions. When I felt trapped behind what I now call the White Picket Fence; a life in which I lived more of this world than in it. But not any longer. I now believe I am actually running to something - to doing what I was meant to do in the way God made me do it. Running towards that dream and passions that have been calling me for a long time. Running to an alignment of my words, thoughts, and finally, my actions.
---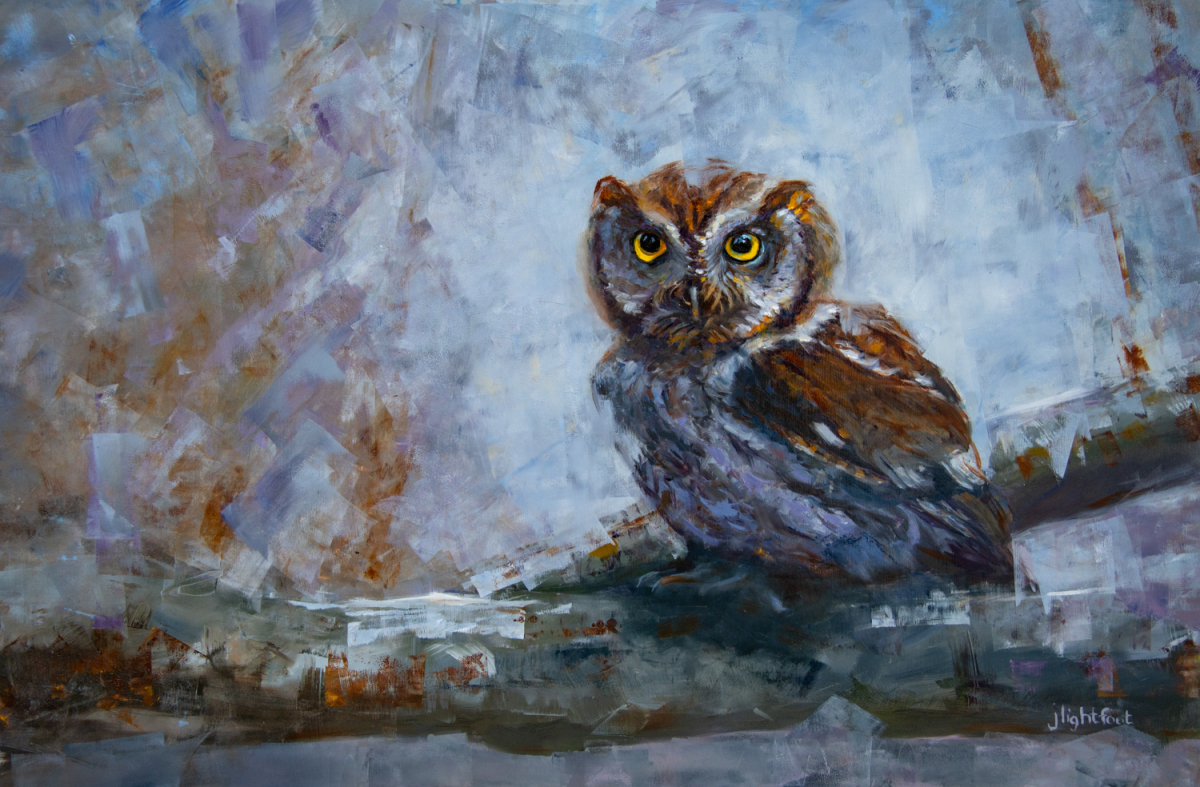 Animals - Seeing in the Darkness
Jamie Lightfoot
oil on wood panel
24 x 36 x 1.5 inches (L x W x D)
This oil painting is my first Covid 19 painting. It expresses my feelings regarding all of this better than I can say. In the quiet of the night, I have been visited by a set of owls. One seems to perch right outside my window, and the other is a little farther away. They sing to each other in a calm, repetitive way. Maybe it's because the world is quieter now, or perhaps they were sent to me as a reassurance, but I find their late-night calls to each other comforting and reassuring. The owl sees what we cannot. The owl is gifted with a vision that focuses beyond what human eyes see or distinguish. The night bird uses his acute sense to move easily and quietly in the realm of darkness when other creatures and beings sleep or retreat to safety. He can see beyond the shadows and the leaves and the branches to where his destination and purpose await him. In days of anxiety and uncertainty, it is difficult to see beyond the hardship and bad news directly in front of us. But if we can open our eyes widely and let them adjust to the darkness, we may be able to make out the shapes of the details of places and times that feel far away from all of this. They are not impossible to reach. Let the light pour into our eyes and move ahead confidently and with agility, like the owl, and we will make it to that perch that is safe and secure with a vantage point of clarity, peace, and health. Stay healthy my friends,
---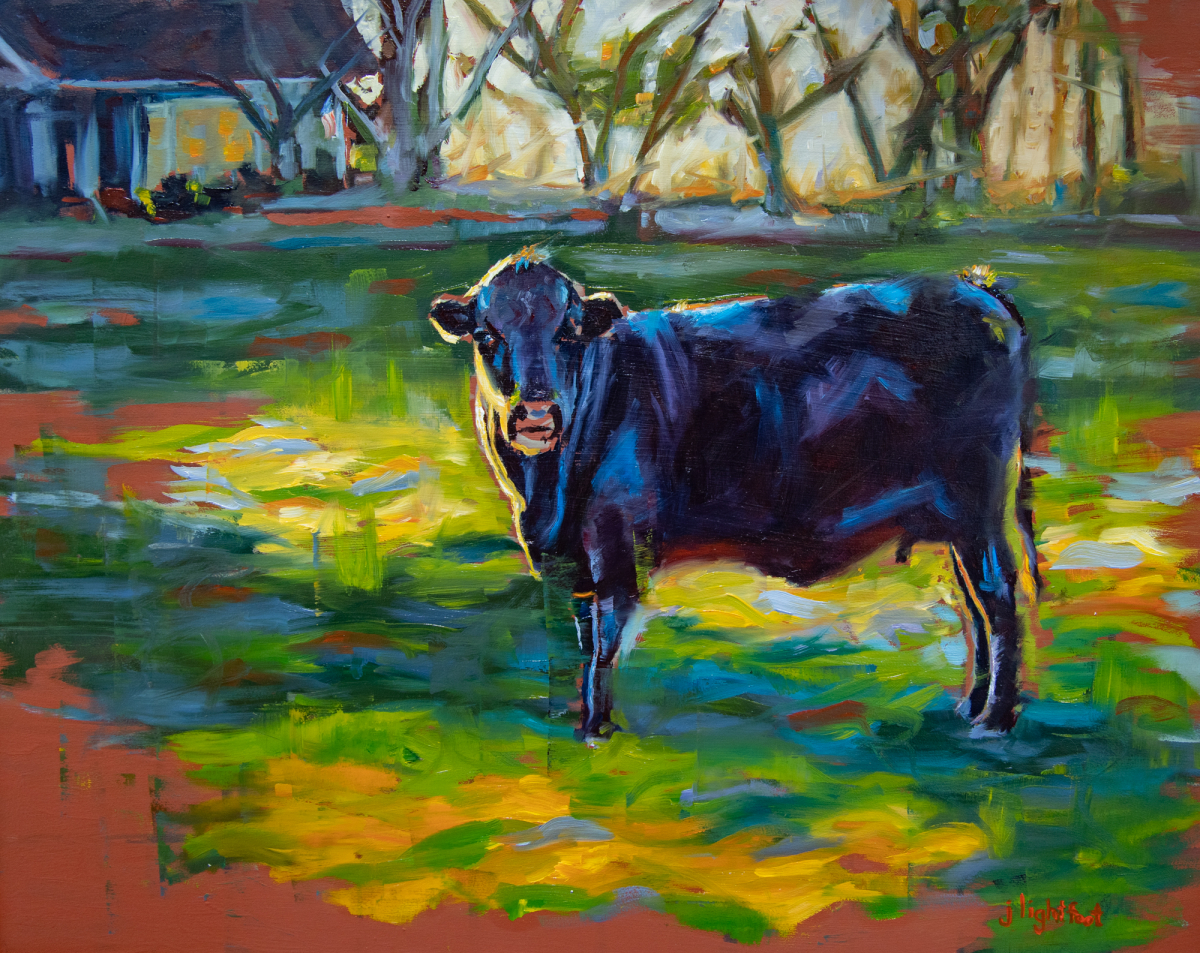 Animals - Sunkissed Bovine
Jamie Lightfoot
oil on wood panel
16 x 24 inches (L x W)
I feel like I have reached the point where I am beyond the Picket Fence; the spot where I am standing in the pasture at sunset, letting the light shine on me. It is where I have put aside a lot of the "should dos," and I am spending most of my life doing what has always called to me. That, of course, is expressing myself through my art. I don't understand this passion and drive to create. I only know that it is how I am made, and to not pursue it is a denial of my existence.
---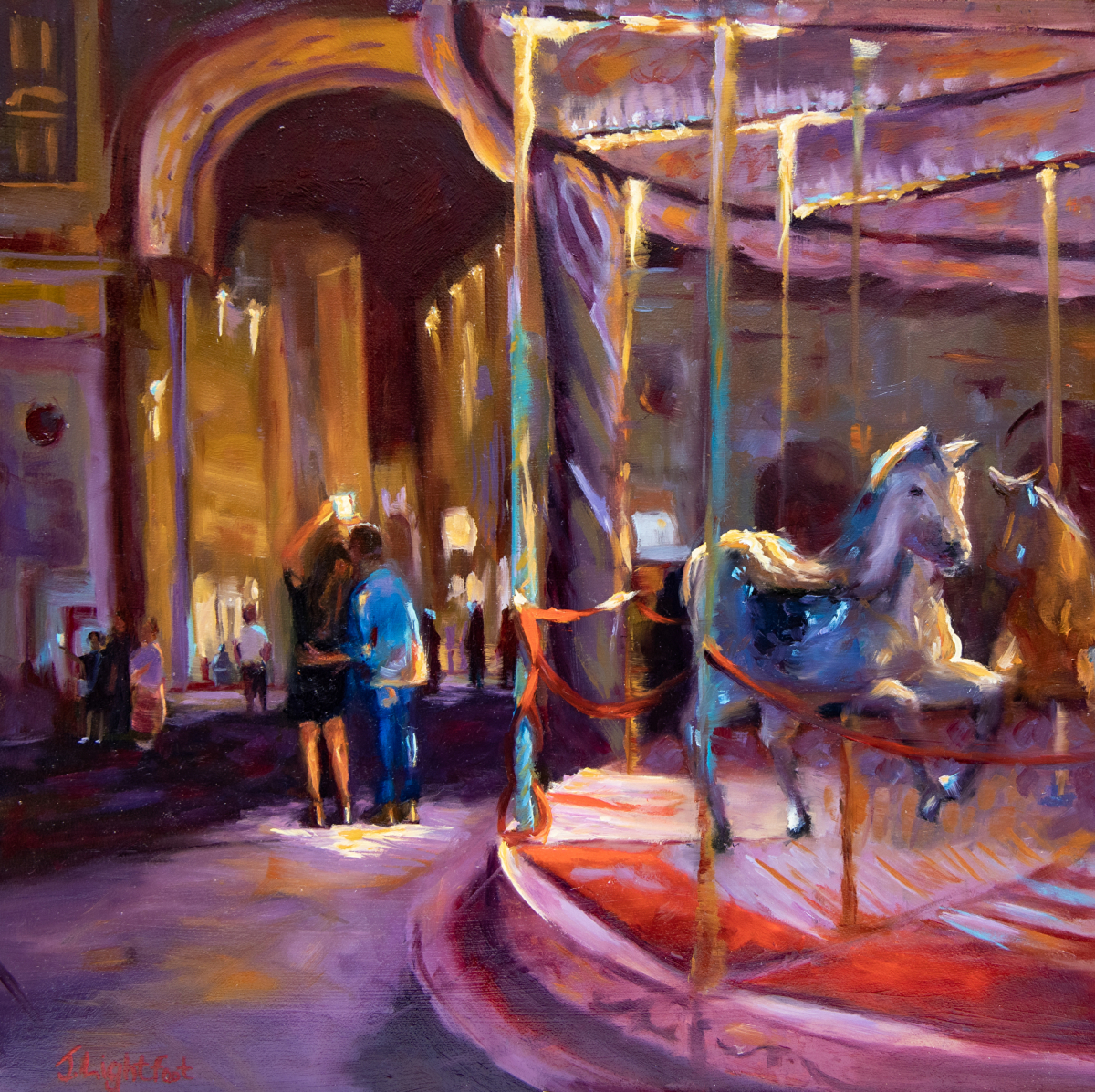 Italy Inspired - Carousel
Jamie Lightfoot
Oil on Wood Panel
16 x 16 inches (L x W)
If you have been to this city, you will certainly recognize the Carousel. What's your best guess?
---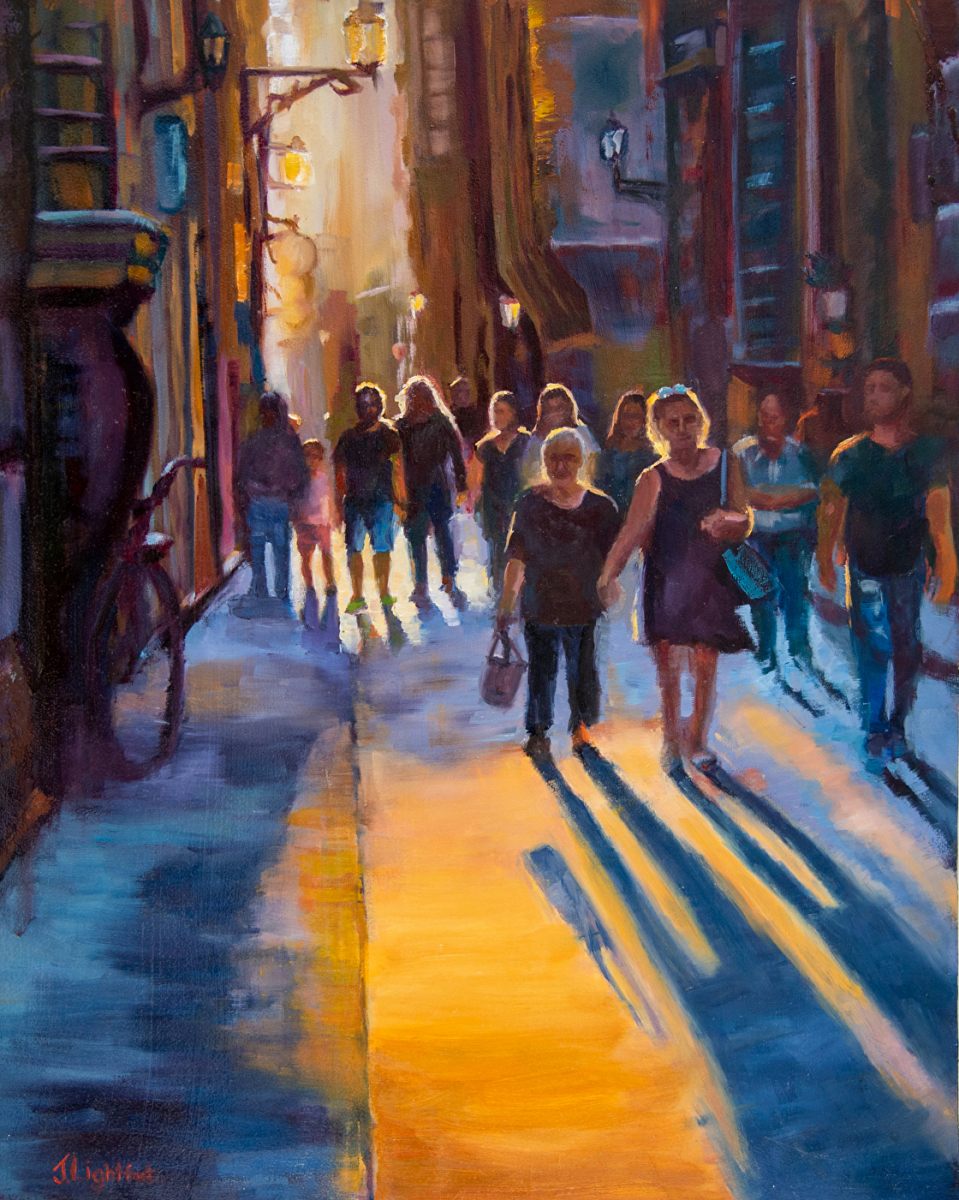 Italy Inspired - Life's Moments
Jamie Lightfoot
oil on wood panel
20 x 16 inches (L x W)
Every painting has a story, and the journey it takes you on is based on your life events. The only truly unique thing I can share is how my life events impact my portrayal of a scene. For me, I love the interplay between the older woman in the foreground, and the young girl peaking from the background.
---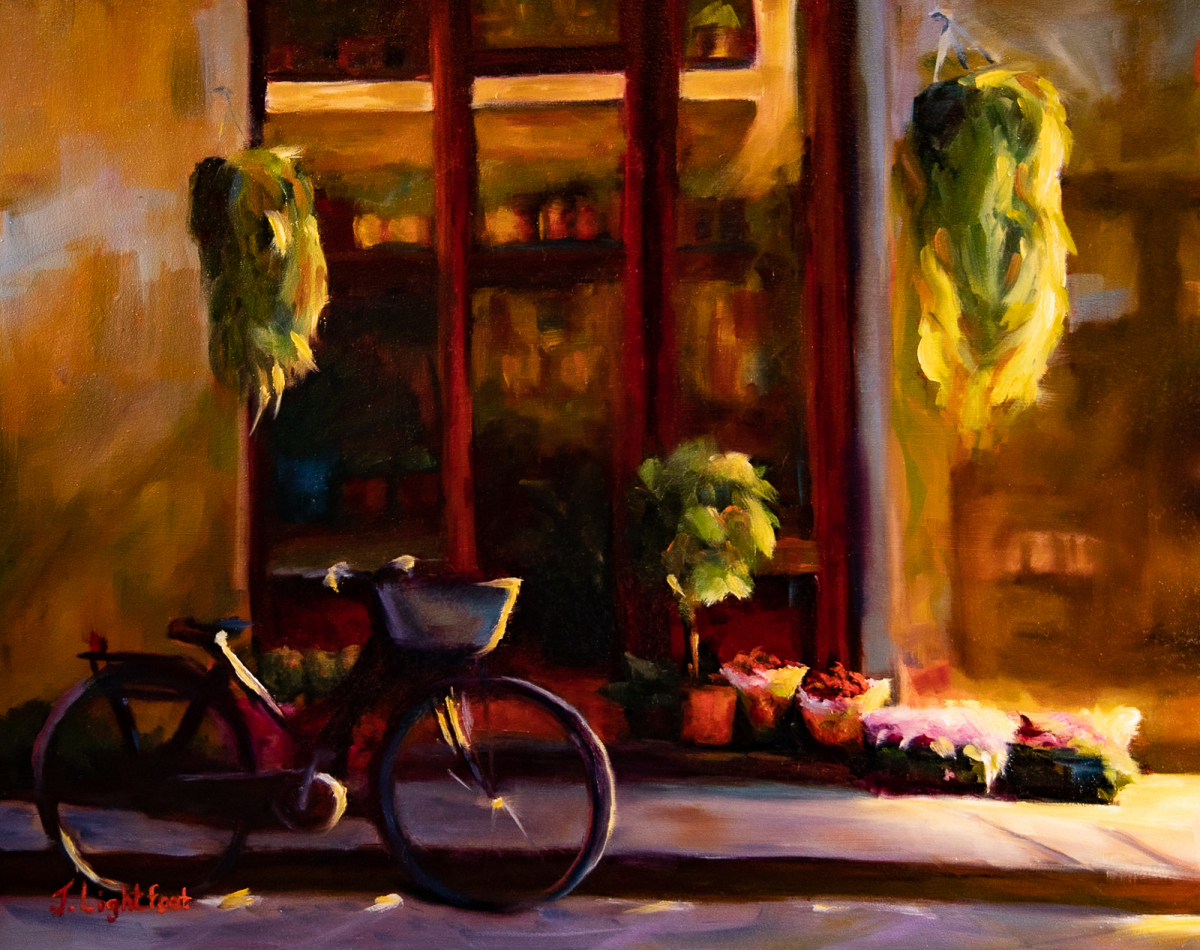 Italy Inspired - Street View
Jamie Lightfoot
oil on wood panel
16 x 20 inches (L x W)
Via della Condotta The most uniquely creative thing I can offer is my personal view of the world. So here is my Street View - shaped uniquely by my journey through this life.
---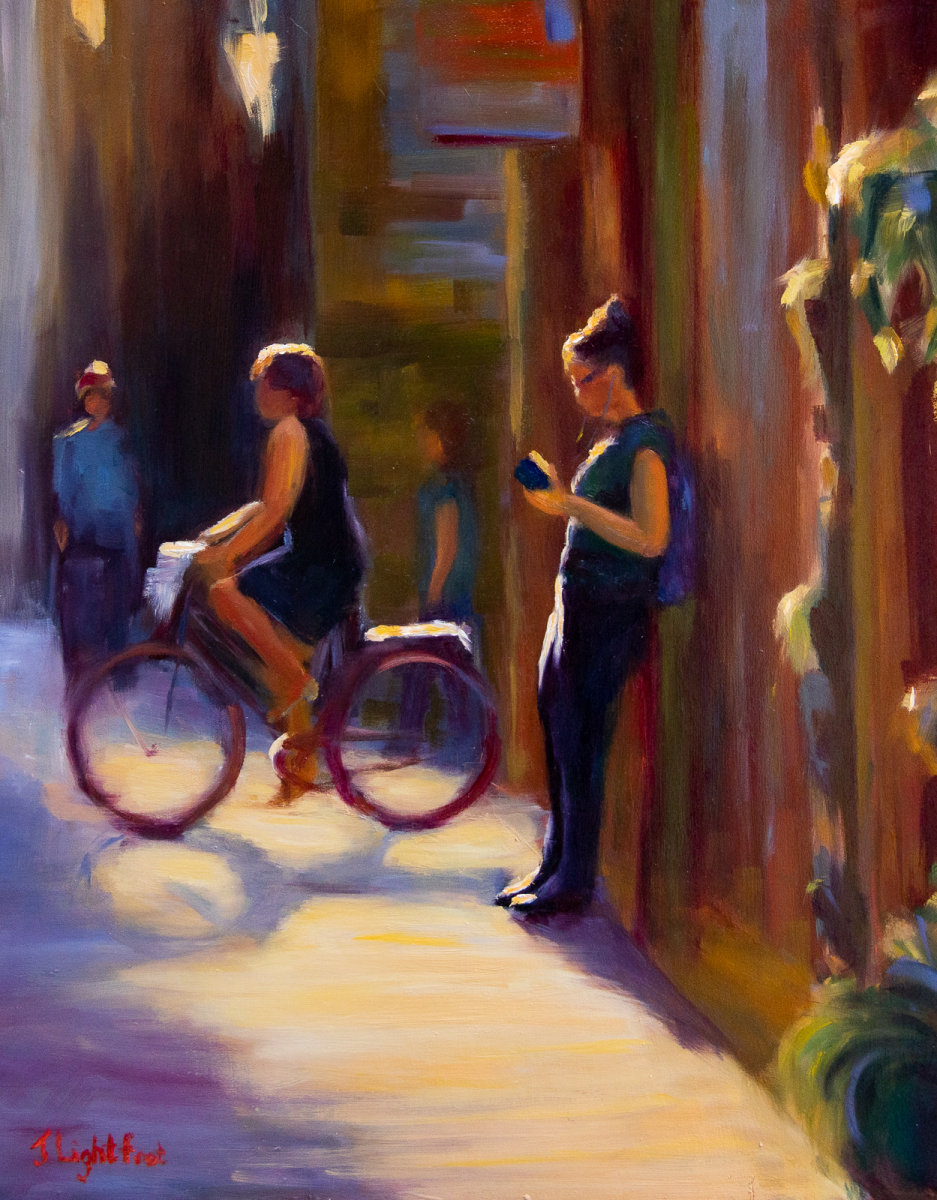 Italy Inspired - Unlimited Roaming
Jamie Lightfoot
oil on wood panel
20 x 16 inches (L x W)
From the streets of Florence.
---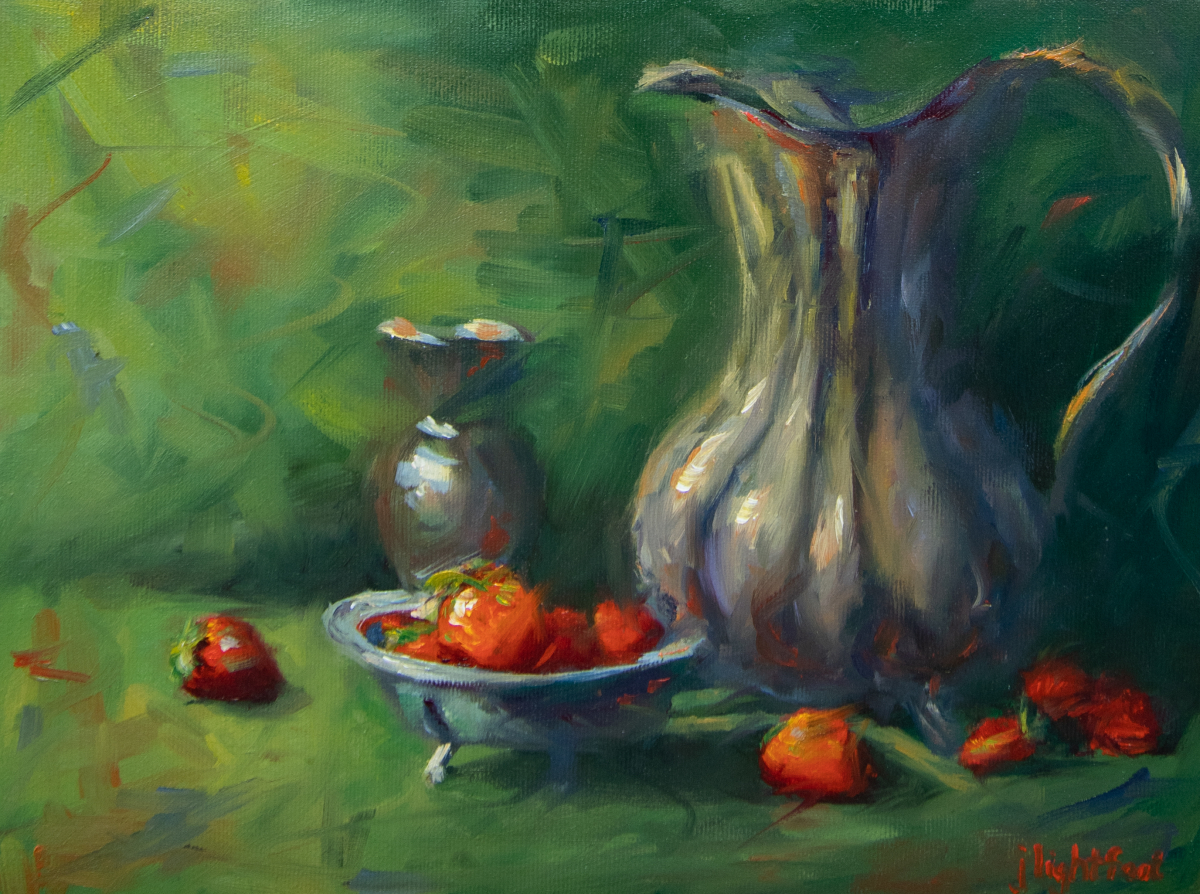 When we are Still
Jamie Lightfoot
Canvas mounted to wood panel
9 x 12 inches (L x W)
The world's just spinning. A little too fast. If things don't slow down soon we might not last. So just for the moment, let's be still.
---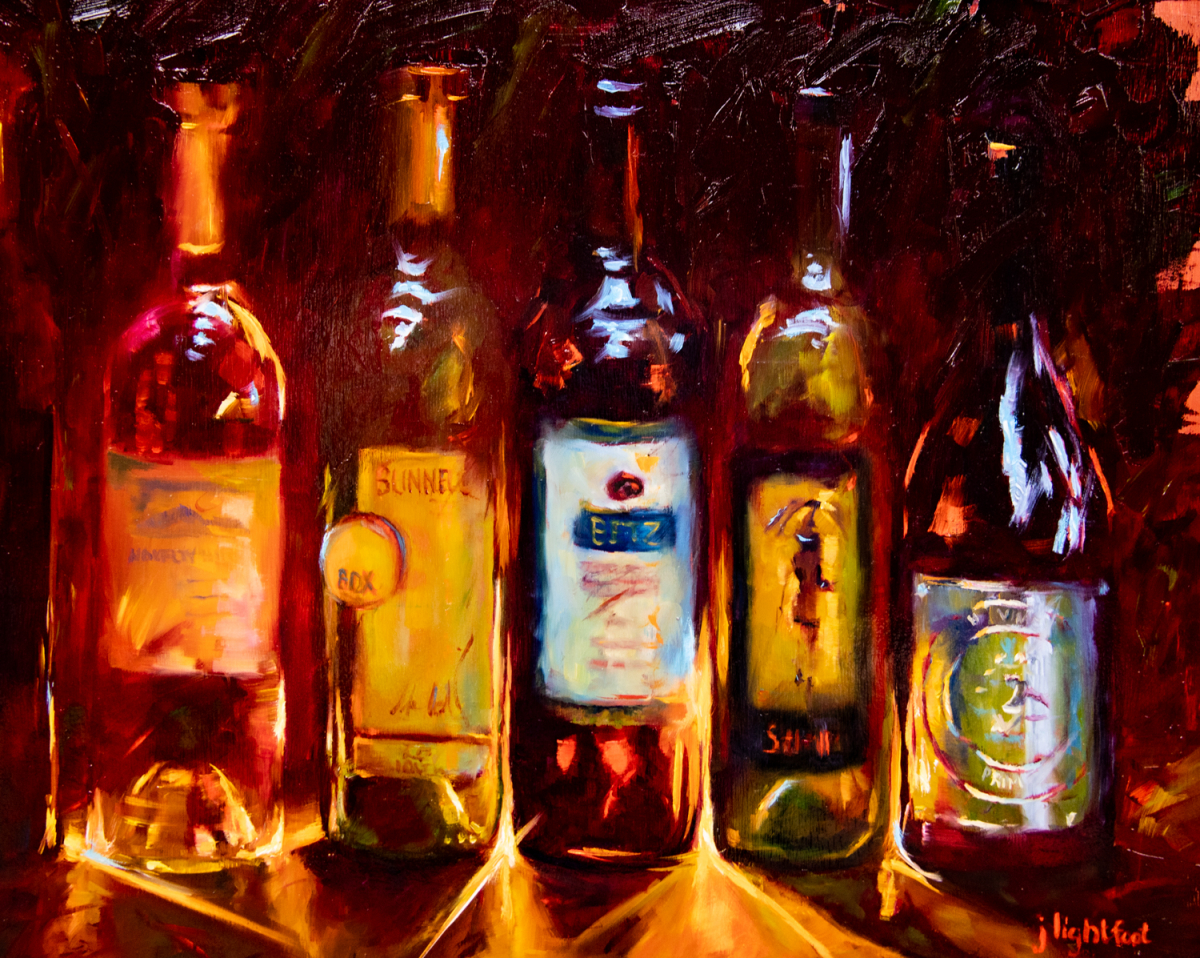 Wine Time with The Locals
Jamie Lightfoot
oil on wood panel
16 x 20 x 1.5 inches (L x W x D)
I love my community of Woodinville. When we relocated to the Pacific Northwest, we picked this location as our new home because of the country feel in the setting right outside of Seattle. I remember the first time I drove down Mainstreet; I just knew this was where I wanted to live. Now it has bloomed into the foremost wine tasting venue of the PNW nearly 100 Washington wineries and tasting rooms. A lot of these businesses are currently closed because of Covid 19, but we will meet you on the other side. In the meantime, turn the news off and open up a bottle.