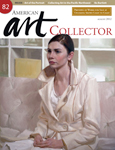 Special Sections
56
The Art Lover's Guide to Collecting Fine Art in the Pacific Northwest
Introduction by Kent Whipple
68
Art of the Portrait:
Striving for Excellence By Christine Egnoski
72
The Portrait Society of America
72
The Portrait Society of America
73
Portrait Artists Directory
80
Capturing an Essence: Collecting Portrait Art
92
Napa Valley Art Festival
26 of the West's top representational artists come together for the fifth annual event.
94
ArtAspen
More than 30 galleries present some of the best in post-war contemporary art at this year's event.
139
Santa Fe Kick Off
American Art Collector and Western Art Collector's 6th annual Santa Fe celebration.
---
Departments
34
The Savvy Collector's Preview
Guide to Upcoming Shows
38
Calling Coast to Coast!