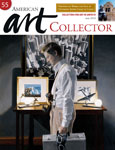 Special Sections
58
Art Market Insights: Unexpected nudes
Three artists remind us that painting the nude figure is often a hallmark of any great painter, regardless of their predominantly chosen genre.
66
Art Lover's Guide
to Collecting Fine Art in Santa Fe, NM
78
Art Show Preview: American Legacy
Oil Painters of America's 19th annual National Juried Exhibition.
110
Making History
Spotlight on the Oil Painters of America organization.
118
Art Show Preview: Golden Opportunity
San Francisco Fine Art Fair ushers in a new era.
201
Art Show Report: Duel in the Desert
5th annual International Guild of Realism Juried Exhibition and Sale.
202
New York Report: Market Strength
Art shows result in $44 million economic boost.
---
Departments
34
The Savvy Collector's Preview
Guide to Upcoming Shows
48
Calling Coast to Coast!