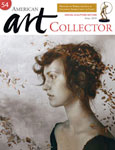 Departments
38
The Savvy Collector's Preview Guide to Upcoming Shows
44
Calling Coast to Coast!
Each month we ask leading galleries coast to coast to tell us what's hot in their gallery and to identify the trends in their city.
53
Special Section
Taking shape: Collecting Sculpture Today
78
Landscape journeys
Southwest Gallery in Dallas will host this year's Nόmadas del Arte Show.
88
Indiana extravaganza
17th annual Stutz Artists Open House.
98
Voyage in watercolor
American Watercolor Society's 143rd annual International Traveling Exhibition.
188
Sold! Who's buying whose art they first saw in this magazine.