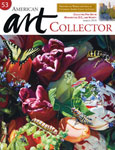 Departments
38
The Savvy Collector's Preview Guide to Upcoming Shows
42
Calling Coast to Coast!
Each month we ask leading galleries coast to coast to tell us what's hot in their gallery and to identify the trends in their city.
44
Scottsdale Art News
This month, beautiful Scottsdale, Arizona, attracts thousands of visitors as this top spring art destination hits its stride.
62
Art Lover's Guide to Collecting Fine Art in Washington, D.C., and Vicinity
In this issue, the spotlight is on our nation's capitol and the historically rich art destinations surrounding it so you can plan your collecting getaway.
71
Special Section
Timeless treasures: still life painting today
164
Dramatic success
The 15th annual Los Angeles Art Show posted high sales and attendance.
168
Who Killed The Music?
American Art Collector sponsored this year's event, which brought together some of the best in art and music.
170
Sold!
Who's buying whose art they first saw in this magazine