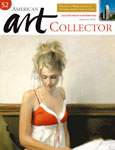 Departments
38
The Savvy Collector's Preview Guide to Upcoming Shows
46
Calling Coast to Coast!
Each month we ask leading galleries coast to coast to tell us what'shot in their gallery and to identify the trends in their city.
62
Art Lover's Guide to Collecting Fine Art
In this issue, we invite you to explore the many fine art galleries and museums located in this culturally rich region so you can plan your collecting getaway.
82
Beyond the Frame
Trompe l'Oeil Today
86
Reality check
5th annual International Guild of Realism Juried Exhibition and Sale.
100
A feast for the senses
Santa Fe's ARTfeast is heralded as one of the most inspired reasons for a getaway.
Visit Gallery
164
Sold!
Who's buying whose art they first saw in this magazine.