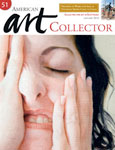 Departments
38
The Savvy Collector's Preview Guide to Upcoming Shows
44
Calling Coast to Coast!
Each month we ask leading galleries coast to coast to tell us what's hot in their gallery and to identify the trends in their city.
58
Art Lover's Guide to Collecting Fine Art in Scottsdale, Arizona
74
Celebration of Fine Art
20th anniversary art show in Scottsdale.
86
Special Preview: A Sense of Place
Two artists paint from Hopper's Cape Cod Studio. By Susan Morrow Potje
92
January Art Show Preview
Art Palm Beach celebrates 13 years.
94
Los Angeles Grandeur
15th annual LA Art Show.
97
Who Killed the Music?
Grammy-themed art event.
142
Charleston Report
Charleston's best on show at the CFADA's November Art Walk and Charleston Art Auction.
144
Solid Impressions
The 10th annual National Juried Exhibition of the American Impressionist Society brought artists and collectors to Colorado.
156
Sold!
Who's buying whose art they first saw in this magazine.