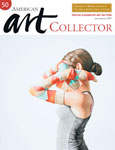 Departments
38
The Savvy Collector's Preview Guide to Upcoming Shows
44
Calling Coast to Coast!
Each month we ask leading galleries coast to coast to tell us what's hot in their gallery and to identify the trends in their city.
57
Special Section
True to Form: Figurative Art Today
77
Art Lover's Guide to Collecting Fine Art in Florida
In this issue, we invite you to explore the many lively art scenes throughout the "Sunshine State" so you can plan your collecting getaway.
96
RED DOT Miami
Annual art show and sale featuring 50 international galleries.
146
Photorealism turns 40
Renowned artists celebrate this genre
170
Sold!
Who's buying whose art they first saw in this magazine
174
Bell of the Ball
A grand opening success for new Southern California gallery.