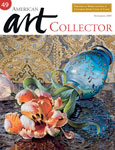 Departments
38
The Savvy Collector's Preview Guide to Upcoming Shows
46
Formative moments
Baltimore collectors Doug Clark and Scott Allocco share their passion for the process of acquiring art.
52
November Art Show Preview
The 13th annual Boston International Fine Art Show will have over 3,000 available works of art from 40 of the top New England galleries.
55
A return to tradition
Oil Painters of America 2009 Eastern Regional Juried Exhibition.
70
Oil Painters of America
Alliance of excellence.
72
It's a small world
Top artists showcase some of their best small works just in time for the holiday season.
189
Sold!
Who's buying whose art they first saw in this magazine.