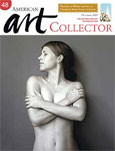 Departments
38
The Savvy Collector's Preview Guide to Upcoming Shows
50
Art Lover's Guide to Collecting Fine Art in Charleston
In this issue, we cover Charleston, South Carolina, one of America's most beautifully preserved historical treasures with a contemporary flair. Read which galleries are showing work by your favorite artists so you can plan your art collecting getaway.
90
October Art Show Preview
National Juried Exhibition of the American Impressionist Society
108
Artists who invoke light and color
American Impressionist Society
110
October Art Show Preview
American Women Artists National Juried Competition
112
Harvest Art Show
Oregon artist Steve Taylor pairs his art with fine wine.
114
Art of the Nude
Special Section
221
Sold!
Who's buying whose art they first saw in this magazine.