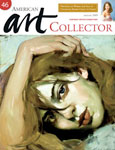 Departments
38
Calling Coast to Coast!
Each month we ask leading galleries coast to coast to tell us what's hot in their gallery and to identify the trends in their city.
40
The Savvy Collector's Preview Guide to Upcoming Shows
60
Art Show Preview: Oil Painters of America Western Regional Show
70
Lasting Values
Oil Painters of America continues its tradition of excellence.
76
Art Lovers Guide to Collecting Fine Art in Southern California
In this issue, we invite you to explore the sunny art scene in Southern California so you can plan your collecting getaway.
82
Special Section: Portrait Artists Directory
180
Sold! Who's buying whose art they first saw in this magazine.