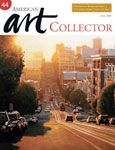 Departments
38
Calling Coast to Coast!
Each month we ask leading galleries coast to coast to tell us what's hot in their gallery and to identify the trends in their city.
40
The Savvy Collector's Preview Guide to Upcoming Shows
66
Outward bound
America's maritime history retold and reinterpreted by today's top marine painters.
172
Sold! Who's buying whose art they first saw in this magazine.