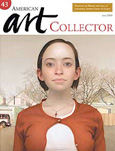 Departments
38
Calling Coast to Coast!
Each month we ask leading galleries coast to coast to tell us what's hot in their gallery and to identify the trends in their city.
40
The Savvy Collector's Preview Guide to Upcoming Shows
58
American Masters 2009
Dozens of top artists return to New York's Salmagundi Club for the 2nd annual Fine Art Show and Sale.
60
The Art Lover's Guide to Collecting Fine Art in Santa Fe, NM
In this issue, we explore the culturally rich art districts of Santa Fe. Read which galleries are showing work by your favorite artists so you can plan your art collecting getaway.
76
Oil Painters of America's 18th annual National Juried Exhibition of Traditional Oils
94
Alliance of Fine Art
Oil Painters of America
188
Sold!
Who's buying whose art they first saw in this magazine.