David Schweitzer's style and technique has changed many times during his 40-plus years as an illustrator. In the last few years, he has settled on cityscapes as his favorite subject and oil as his medium of choice. Thus far, he has been focusing on Chicago scenes but has many New York compositions in the works.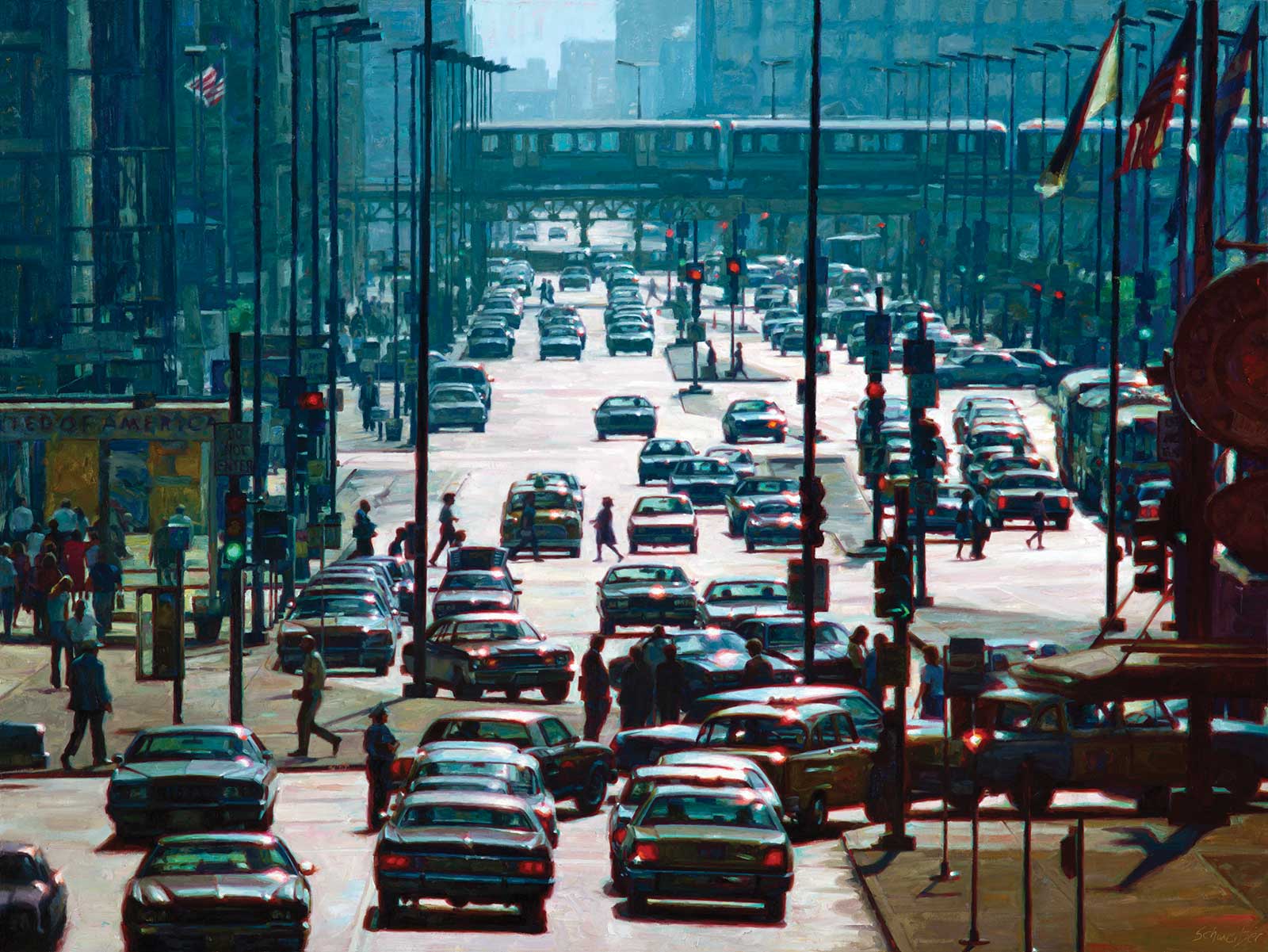 Wacker, oil on canvas, 36 x 48"
"I think it is the human element about a bustling city that I prefer over other landscapes," Schweitzer says. "I get the sense of a thousand stories waiting to be told. The city makes me feel like I am just one tiny gear in a huge machine but still a vital part of what makes it all run."
Noon Rush, oil on panel, 38 x 48"
Schweitzer's process consists of three phases: photography, computer editing and, lastly, painting. "I think the photography phase is where most of the creativity happens. It's where the ideas originate," says the artist. "I'll spend the whole day on the streets with my camera looking for something that sparks an idea that I can turn into a visual story. There is inspiration around every corner!" Once he sees a potential painting, he shoots many photographs of people and vehicles, basically collecting a library of elements that he can use in the editing phase.
Lake Street, oil on canvas, 30 x 36"
At the computer, he starts assembling the scene. "I'll start with the best overall photo and make adjustments to the perspective, shadows, lighting and colors. Then I'll add and subtract elements using all my other photos. I especially love busy, chaotic scenes where there is so much going on that your eye never stops moving, which is just how I feel in the city," Schweitzer adds. Last comes the painting phase, which for Schweitzer is by far the most time consuming. "I think of this final phase as translating my photo into another language, the language of paint," he says. "For me, this is the phase where the picture comes to life—where it stops being mechanical and starts being human." —
Want to See More?
david@2palettes.com
www.2palettes.com
Powered by Froala Editor