Known for her expressive style and vibrant yet tranquil color palette, Sheryl Knight's oil paintings have earned accolades from prestigious fine art organizations, juried exhibitions and major publications across the country. Having a passion for the landscape and the outdoors, Knight loves painting in the plein air tradition. Her style and paint application is a constant theme throughout her work, creating a consistency that is uniquely her own. Her work is impressionistic in the way that she manipulates the thickness and texture of the oil paint with her favorite palette knife.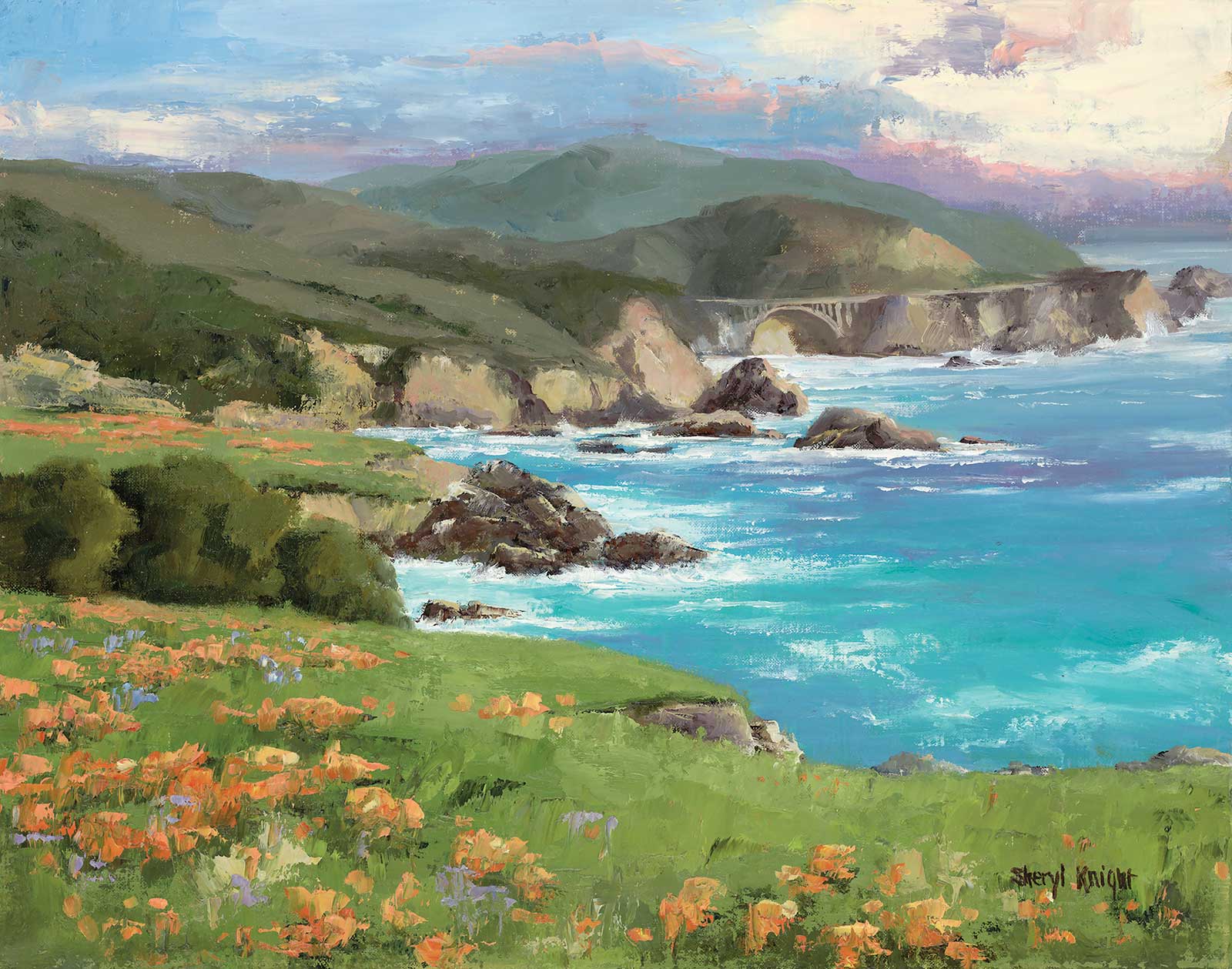 Big Sur in Spring, oil on linen, 11 x 14"
Regal Trees, oil on linen, 24 x 18"
Drawn to the beauty of the California landscape she finds joy in the subjects all around her. "I love painting on location as I feel it brings out the true colors and atmosphere of nature," she says. "There is also a tranquility and a thrill that comes from painting from life, and I am always inspired by the wonder of creation."
The result is bright, impressionistic and unmistakable Californian work.
"The advantage of painting from life is that you have a feeling of the scene, you're actually experiencing it in a very real way. There's an emotional connection that you won't get from a photograph," she says.
Knight's award-winning paintings have shown in group and solo gallery exhibitions, as well as many national juried shows and juried plein air exhibits. She is a signature member of American Women Artists and National Oil and Acrylic Painters' Society. She is also a member of Oil Painters of America, American Impressionist Society, Women Artists of the West, California Art Club and Outdoor Painters Society.
Overlooking the Pacific, oil on linen, 16 x 20"
Her work will be on view in the Women Artists of the West's 50th National Exhibition at Settlers West Galleries in Tucson, Arizona, from March 25 through April 17. She is represented in California by Nancy Dodds Gallery, Solvang Fine Arts Gallery, Park Street Gallery, Seaside Gallery, Bronze, Silver and Gold Gallery, and Gallery Los Olivos.
Want to See More?
(805) 478-1314 | www.sherylknight.com
Facebook: /sherylknightfineart
Instagram: @sherylknight4278
Powered by Froala Editor